Boston Botox & Dermal Fillers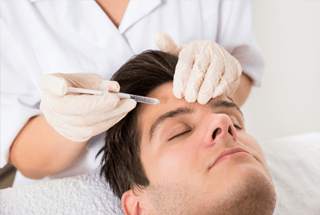 If you've ever looked in the mirror from one day to the next and suddenly the person you see looks decades older than you feel, you're not alone. Unfortunately, some people see the signs of aging more clearly than others. If you want to recreate your smooth, youthful appearance, a trip to the dentist may be in order. Dr. Christa Rizkallah offers patients of Devonshire Dental Associates personalized Botox Cosmetic and dermal filler treatment plans. In addition to the years of advanced training in the interaction of oral and facial structures completed by all dentists, Dr. Rizkallah has continued her education with courses specifically geared to teaching proper cosmetic applications for Botox and dermal fillers. If you want to learn more about your cosmetic options, give our downtown Boston dental team a call. We'll be happy to schedule a consultation with Dr. Rizkallah, so you can discuss your options and get started with a custom treatment plan.
What is Botox Cosmetic?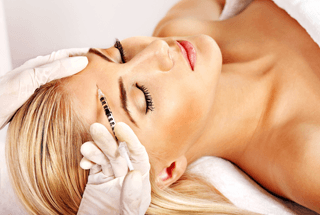 Botox is a controlled form of the botulinum toxin that has been used medically for decades in the treatment of muscle spasms and pain. When injected into spasming or damaged muscles, Botox prevents unconscious movements that can cause severe pain and slow the healing process. When used for cosmetic purposes, Botox stops muscle movements that lead to fine lines and wrinkles.
How Does Botox Injection Work?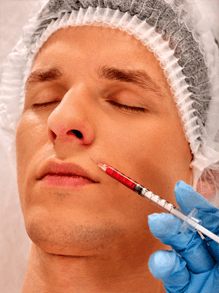 Dr. Rizkallah will precisely place the Botox injections to target specific facial muscle groups around the eyes and forehead. This will stop the unconscious movements of these muscles that lead to wrinkles over time. Think of a fitted sheet freshly laundered and placed on a bed. It's smooth and wrinkle free. Now, sit on the bed. There are large wrinkles and bunches. When you stand up, the mattress fills back out and most of the wrinkles are gone. Overtime, as you get in and out of the bed over and over again, the wrinkles no longer go away. Unconscious muscle movements have the same impact on your skin. When Botox is injected, these movements are stopped. With regular touchups, usually every four to six months, Botox will stop these movements, allowing your skin to relax and the appearance of fine lines and wrinkles to diminish.
What are Dermal Fillers?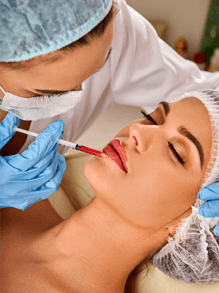 Dermal fillers are used to fill out the face when the body's naturally produced collagen begins to diminish, leading to deep lines around the nose and mouth. Dermal fillers are injected below the skin to restore the smooth, flawless appearance of the face.
How are Dermal Fillers Placed?
Dermal fillers are injected below the skin. Then, Dr. Rizkallah will smooth and shape them, filling in the deep facial grooves. Once in place, your face will retain the full, youthful appearance for several months. We will work with you to establish a retreatment schedule, but most patients need to visit us every at least every four months to keep their flawless results.
What Should I Expect After Treatment?
Following your Botox or dermal filler treatment, you may have some swelling or tenderness at the site. You should be able to handle any discomfort by taking over the counter pain relievers. If you're experiencing severe pain or swelling that does not abate within a day or two or gets worse, please call our office right away.
Botox for TMJ Therapy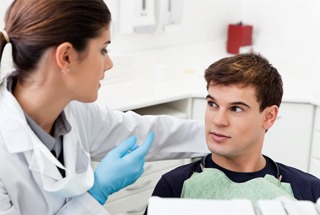 If you're experiencing pain in your temporomandibular joint (TMJ), you can find relief with the help of Botox. When injected into the appropriate areas of your facial muscles, it can relieve much of the tension you might feel. Say goodbye to the headaches, tension, and pain caused by clenching or grinding teeth and severe jaw strain. You might even be surprised to learn that Botox injections in your jaw area can minimize the likeliness of experiencing lockjaw!