Dental Implants – Boston, MA
A Permanent Solution for Missing Teeth
Several options are available today for rebuilding strong, natural-looking smiles after tooth loss, but our team at Devonshire Dental of Boston strongly recommends dental implants above the rest. Why? Because dental implants in Downtown Boston are more lifelike, more durable, and much longer-lasting than their traditional counterparts. In fact, with proper maintenance, they can easily serve you well for the rest of your life! Better yet, we're well-equipped to personally handle every part of tooth replacement with dental implants in our Boston, MA dental office thanks to our skilled in-house periodontist, Dr. Annie Amsalem.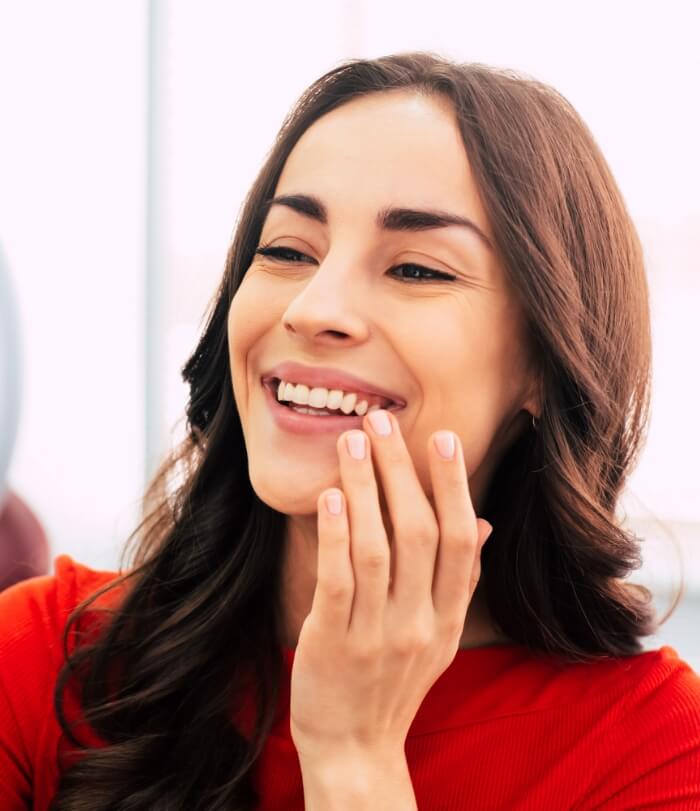 Why Choose Devonshire Dental of Boston for Dental Implants?
Experienced Specialist Places Dental Implants In-House
In-Network with Multiple Dental Insurance Providers
Located in Boston's
Financial District
What are Dental Implants?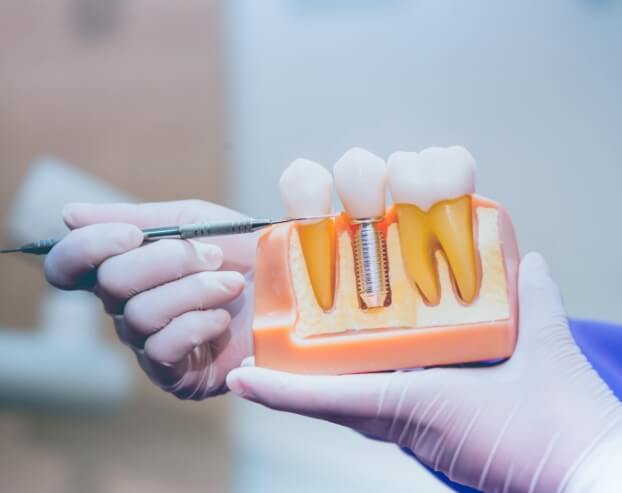 A dental implant is a small, metal post (typically crafted from biocompatible titanium) that is designed to replace the natural root of a missing tooth. Most tooth replacements don't bother with replacing the root – only the white, visible crown that makes up your smile. However, this approach can have long-standing consequences for your oral health. Without a functioning tooth root in place, the jawbone no longer has the stimulation it needs to stay full and healthy; as a result, many patients experience serious bone deterioration as they grow older. Dental implants help to prevent from happening and better preserve a patient's ongoing oral health while also providing superior aesthetics and function.
The 4-Step Dental Implant Process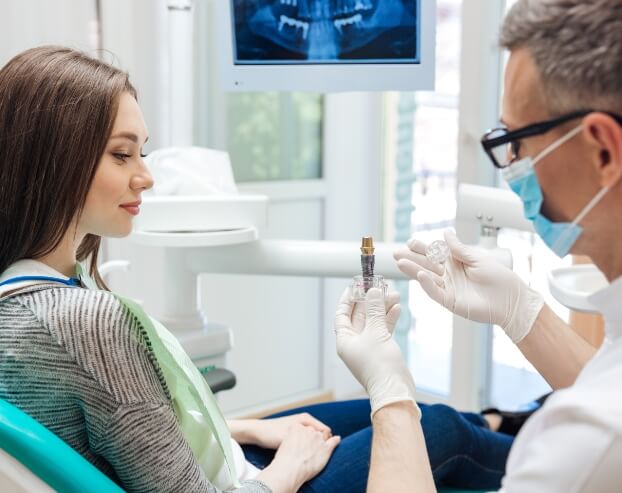 Due to their unique structure and the fact that surgical procedures are required, dental implants require multiple appointments over the course of many months. We think you'll find, though, that their long-term benefits make them well worth the wait. Here's a basic outline of what you can expect throughout the dental implant process.
Initial Dental Implant Consultation
First, the patient will need to undergo an in-depth consultation with one of our doctors. While dental implants are a transformative and highly successful service, they are not right for everyone. Our goal will be to assess your oral health and jawbone density and determine whether or not you are a viable candidate.
Dental Implant Surgery
Once we've confirmed that dental implants would be a good fit for you, the next step is the surgical placement of the implants themselves into the jawbone. While many general dentists have to refer their patients to outside specialists for this procedure, we're proud to have brought the specialist to you instead! Our in-house periodontist will personally handle your implant placement in the familiar comfort of our dental office.
Dental Implant Osseointegration /Abutment
Following the surgical placement, patients will need some time for their mouths to heal. This process, during which the placed implant(s) will gradually start to bond with the surrounding bone and tissue, is called osseointegration. Although it can take several months, it results in a strong foundation for your new restorations. Once osseointegration is complete, we can place metal abutments that will secure your restoration in place.
Delivery of Dental Implant Restorations
Finally, you'll return to our dental office so that our doctors can start designing your new, custom-made restorative work. Several options are available for restoring implants, including tooth-colored dental crowns, bridges, and dentures. All of these choices are securely anchored over the implants for a beautifully lifelike final result.
Benefits of Dental Implants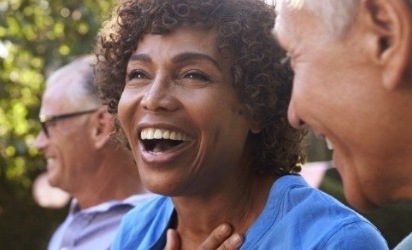 No matter how many pearly whites you're missing, most dentists will agree that dental implants are by far the most advantageous way to rebuild your smile after tooth loss. When it comes to long-term oral health, dental implants in Downtown Crossing are able to offer unique benefits that other options, like traditional dentures and bridges, simply cannot deliver. Here are just a few of them!
Replacement Teeth That Look and Feel Natural
Dental implants are the only solution to tooth loss that replicates the root structure of the tooth, not just the crown (the part that's visible above your gums). Because implants integrate with your jawbone, they feel just as natural as the roots of the teeth you were born with. After some time, you may even forget that you have implants!
Depending on how many teeth you need to replace, each implant is topped with a custom-made restoration (crown, bridge, or denture). We use high-quality, natural-looking materials for these prosthetic teeth. Once your restoration has been placed, onlookers shouldn't be able to differentiate between it and your natural pearly whites.
The Potential to Last a Lifetime
Because of the powerful bond that implants form with your jawbone, they are able to last for decades if you properly care for them. By contrast, traditional bridges and dentures must be repaired or replaced every 5 to 15 years. Although dental implants may cost more initially, they're a more worthwhile investment since they can save you money in the long run.
No Need to Alter Your Natural Teeth
If you choose to replace one or more consecutive missing teeth with a dental bridge, some enamel will have to be shaved away from the natural teeth on either side of the gap in your mouth to make room. Plus, these teeth can suffer strain after supporting a bridge for several years. If you want to replace multiple missing teeth in a row, we suggest an implant-retained bridge, in which the bridge is anchored onto implants rather than your teeth. This allows you to preserve your natural tooth structure for much longer.
Remarkably High Success Rate
When they're well-maintained, dental implants have a success rate of over 95 percent, even after more than 10 years. Fortunately, implant care doesn't require anything you aren't already doing to care for your natural teeth. Essentially, all you need to do is brush twice daily, floss at least once a day, and visit us for a routine checkup and cleaning twice a year.
Who Dental Implants Can Help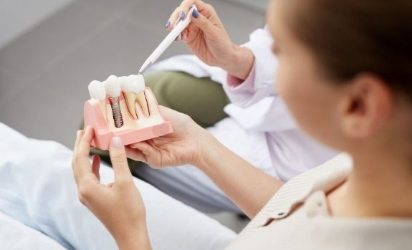 It doesn't matter if you're missing a single tooth or all your teeth, dental implants can help. Consider the following options to rebuild your smile!
Missing One Tooth
In this case, one implant is used in tandem with a single implant-retained restoration. This restoration is fitted specifically for an abutment, which acts as a connector for the implant and crown.
Missing Multiple Teeth
Multiple teeth can be replaced with a dental bridge, but instead of buffing down neighboring teeth for the restoration to fit on top of, the teeth replaced are simply fitted with dental implants. After the bridge restoration is created, an implant is fitted on either side, effectively bridging the gap in your smile.
Missing All Teeth
If you're used to wearing a denture, you'll be happy to learn that replacing an entire arch of teeth only requires four to six implants to complete. By either customizing your current denture to fit with implants or creating a new one altogether, the dentist in Downtown Crossing can make your dental device fit far more comfortably and stabilize your bite, making basic tasks like chewing and speaking easier.
Understanding the Cost of Dental Implants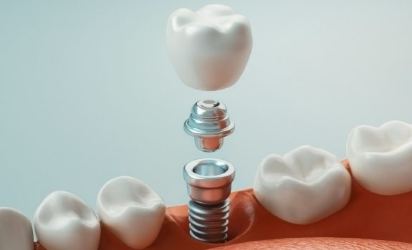 Dental implants are considered a long-term investment that saves more money in comparison to other tooth replacement options. If you want a tooth replacement that has the potential to last for 30 years to a lifetime, dental implants are the only option on the market with a track record of doing so. However, since each patient's situation is different, there isn't a flat fee for this treatment. You'll need to schedule a consultation with our team so we can assess your oral health and provide an estimated price. Read on or reach out to us today if you want to know more about the cost of dental implants in Boston!
Preliminary Treatments & Dental Implant Surgery
Some patients require one or more preparatory treatments before they're eligible for dental implants. One of the more common procedures is a bone graft, which is necessary for those who are lacking in jawbone density due to previous tooth loss. This will increase the overall cost of the procedure.
The surgery itself, along with any anesthetics used, will add unique costs as well. Your implant dentist in Boston will discuss the factors that can impact how much you'll pay. You might also be billed from separate practices if you require treatment elsewhere.
The Parts of Your Dental Implant
Here are several things that can influence the overall cost of your dental implants:
The number of implants: Needing four or more metal posts will cost you more compared to only requiring one implant.
The kind of restoration: Each type of restoration (crowns, bridges, dentures) will have different costs; the smaller ones are less expensive.
Material: Your implants can cost more depending on the material they're made out of, such as titanium or zirconia.
Manufacturers: There are several different brands of implants with their unique costs and benefits.
How Dental Implants Pay For Themselves
While dental implants may have a higher initial cost, they can save you more money in the long run. Other restorations like bridges or dentures may be more convenient, but the need for replacements every 5 to 10 years can increase the price over time. Not only can implants last a lifetime with proper care, but they can also help avoid issues like gum disease or tooth decay that can lead to needing restorations in the future.
Does My Dental Insurance Cover Dental Implants?
Many insurance providers don't cover the dental implants themselves. However, they might help pay for certain parts of the procedure like restorations or extractions. Be sure to speak with your insurance company to understand the details of your plan. You can also reach out to our knowledgeable staff to help you with this process!
Dental Implants Post-Op Instructions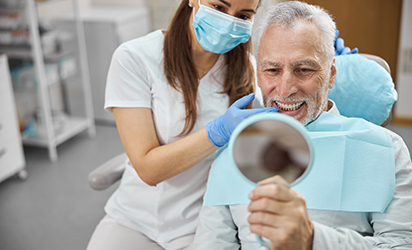 Even if you're eager, you can't fully use dental implants right after surgery. Once the placement is done, you must undergo the recovery process. Fortunately, we at Devonshire Dental of Boston can help. Listed below are some dental implant post-op instructions from Boston dentists. Reading them over lets you know what to expect post-treatment and how best to aid your smile's healing. However, don't hesitate to call our office if you have pain or other side effects not mentioned here.
What to Do Directly After Dental Implant Surgery
In the days after surgery, your biggest priority is to leave the forming blood clot alone. Doing so will let your gums heal properly from the prior incisions. Given that fact, then, follow these rules for the next few weeks:
Rather than spit your saliva, use tissues or swallow it.
Don't use drinking straws, as the suction could dislodge your blood clot.
For the first day post-surgery, try not to smoke tobacco.
Keep your fingers and tongue away from the surgical site(s).
Common Side Effects When Recovering from Dental Implant Placement
For the first week after implant placement, you'll likely experience some side-effects. Normal ones you might face include:
General Discomfort – Your surgical site might ache once the surgical anesthetic wears off. To manage it, take over-the-counter pain relievers.
Intermittent Bleeding – The treated area may bleed, sometimes for multiple days. Should that happen, lessen the blood flow with gauze and light pressure.
Gum or Facial Swelling – The treated site may swell over the first 72 hours. If it does, use a cold or warm compress to relieve the effect.
Remember, the effects above are temporary and fade with time. If you notice they persist, though, do let us know.
Your Diet After Dental Implant Surgery
For a few days after placement, you should only eat softer, non-abrasive foods. You could disrupt the healing and fusion processes otherwise.
As for examples of these items, some good ones are:
Mashed potatoes
Yogurt
Ice cream
Pudding
(Non-hot) Soup
Scrambled eggs
Pasta
Once you feel up to it, you can return to a normal diet. Even then, though, we recommend limiting overly crunchy and tough foods. You should also not chew directly on the implant site(s).
Post-Op Health & Oral Hygiene
Naturally, you'll need to clean your mouth even as it heals. You should thus practice good oral hygiene — just make some slight adjustments as you do.
Consider tooth-brushing, for example. While it's okay to brush teeth as usual, be very careful near surgical sites.
You'd also do well to change your mouth rinse approach. Rather than use mouthwash with high alcohol content, rinse your mouth twice or thrice daily with salt water. The latter method will reduce post-surgery inflammation.
What to Do After Your New Teeth Are Attached
You'll be done with treatment when your implants have fully fused and received their restorations. That said, watch for minor, temporary sensitivity in your gum tissue. If you suffer from this effect, it's best to control it with pain medication.
You shouldn't face any swelling, bleeding, or extensive recovery from here. You'll be ready to smile that same day!
Dental Implant Frequently Asked Questions
From the step-by-step process to the benefits, the above information is designed to help you learn more about getting dental implants in the financial district. However, it's completely natural to still have a couple of questions on your mind. To make finding the answers as seamless as possible, we've responded to a few FAQs we hear from patients considering this tooth replacement solution. If you would prefer to speak directly with our team, don't hesitate to get in touch!
Does Getting Dental Implants Hurt?
From preventive care to restorative treatments, one of the biggest reservations many patients have is whether the recommended procedure will hurt. So, it's not too surprising that this question makes the list. If you've been wondering something similar, you'll be happy to know that getting dental implants is relatively pain-free! After all, your mouth will be thoroughly numbed with a local anesthetic before the procedure begins. Once you return home, you'll abide by an extensive list of aftercare instructions designed to keep your discomfort to a minimum, like sticking to soft foods, taking OTC pain medication as directed, and using a cold compress.
How Can I Tell If My Dental Implant Is Failing?
Dental implants come with several benefits, including the fact that they have over a 95% success rate. With that being said, it is possible for them to fail, which is typically a result of peri-implantitis, failed osseointegration, or poor dental habits. Therefore, it is of the utmost importance that you keep an eye out for any of the below warning signs of failure:
Severe pain around the implant.
Inflamed or swollen gums.
A loose dental implant.
Difficulty biting or chewing.
If you experience any of the above, contact your implant dentist in the financial district right away. This will give them the highest chance of being able to save it and prevent further damage to your oral health.
Do Dental Implants Decay?
In short, the answer is no. Although dental implants are lifelike in many ways, they cannot get cavities since they are not made of enamel. However, that doesn't mean you should stop brushing and flossing. After all, your remaining natural teeth can still decay and your gums can become infected without a solid oral hygiene routine in place. So, make sure to brush twice a day, floss daily, and visit your dentist every six months for a dental checkup and cleaning.
Is There Anything I Shouldn't Eat with Dental Implants?
Unlike other tooth replacement options, dental implants don't come with a long list of dietary restrictions. While sticking to soft foods, like oatmeal, during the recovery period is ideal to prevent irritation, you'll be free to indulge as you please after that! Just make sure to be cautious of hard, sticky, or chewy foods. Like your natural teeth, your dental implants aren't indestructible. Therefore, it's a good idea to avoid foods like peanut brittle, which can potentially crack or otherwise damage your new and improved smile.