Dental Implants
A Permanent Solution
Several reconstructive options are available today for rebuilding strong, natural-looking smiles that patients can rely on, but our team at Devonshire Dental Associates strongly recommends dental implants above the rest for interested patients. Why? Because implants are more lifelike, more durable, and much longer-lasting than their traditional counterparts. In fact, with proper maintenance, they can easily serve you well for the rest of your life! Better yet, we're well-equipped to personally handle every part of your treatment procedure right here in our downtown Boston practice for added convenience and comfort. Ready for a consultation? Contact us today!
What is a Dental Implant?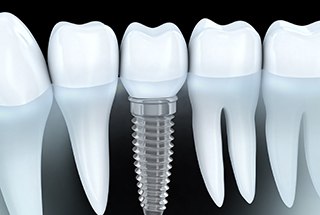 A dental implant is a small, metal post (typically crafted from biocompatible titanium) that is designed to replace the natural root of a missing tooth. Most tooth replacements don't bother with replacing the root, only the white, visible crown that makes up your smile, but this approach can have longstanding consequences for your oral health. Without a functioning tooth root in place, the jawbone no longer has the stimulation it needs to stay full and healthy; as a result, many patients experience serious bone deterioration as they grow older. Dental implants help to prevent from happening and better preserve a patient's ongoing oral health while also providing superior aesthetics and function.
What Happens During Dental Implant Treatment?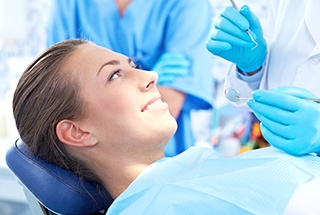 First, the patient will need to undergo an in-depth consultation with one of our doctors. While dental implants are a transformative and highly successful service, they are not right for everyone. Our goal will be to assess your oral health and jawbone density and determine whether or not you are a viable candidate.
Once we've confirmed that dental implants would be a good fit for you, the next step is the surgical placement of the implants themselves into the jawbone. While many general dentists have to refer their patients to outside specialists for this procedure, we're proud to have brought the specialist to you instead! Our in-house periodontist will personally handle your implant placement in the familiar comfort of our practice.
Following the surgical placement, patients will need some time for their mouths to heal. This process typically takes months, during which the placed implant(s) will gradually start to bond with the natural bone and tissue that surrounds it. This results in a strong foundation for your new restorations.
Finally, you'll return to our practice so that our doctors can start designing your new, custom-made restorative work. Several options are available for restoring implants, including tooth-colored dental crowns, bridges, and dentures. All of these choices are securely anchored over the implants for a beautifully lifelike final result.
Implant-Retained Crowns and Bridges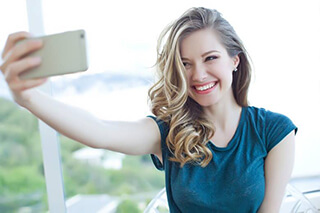 When some natural teeth still remain healthy in the gum line, an implant-retained crown or bridge can fill in the gaps left by those that have been lost. This replacement option preserves the jaw bone to help you keep your smile as intact as possible, making it a wonderful choice for patients who are in good oral and overall health.