Invisalign – Boston, MA
Straighten Your Teeth Without Wires and Brackets
Many adult patients incorrectly assume that they've missed the boat on straightening their smiles and correcting noticeable gaps and misalignments – after all, traditional braces are typically the domain of middle school and high school students. At Devonshire Dental of Boston, we're happy to let you know that traditional braces aren't the only option available for creating your best smile! Our dental office features Invisalign, an orthodontic service that trades the old wire-and-bracket model for a sleeker, more cosmetically friendly option that's perfect for polished professionals. Contact our dental office today to schedule your first consultation to discuss Invisalign in Boston, MA.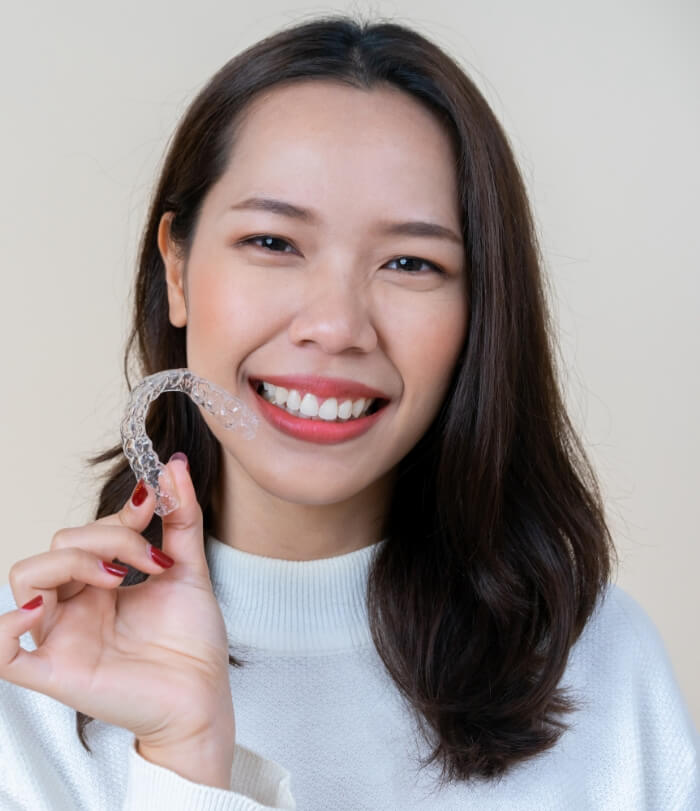 Why Choose Devonshire Dental of Boston For Invisalign?
Certified Invisalign Providers
Perfect For Adults & Teens
Located In The Financial District
How Invisalign Works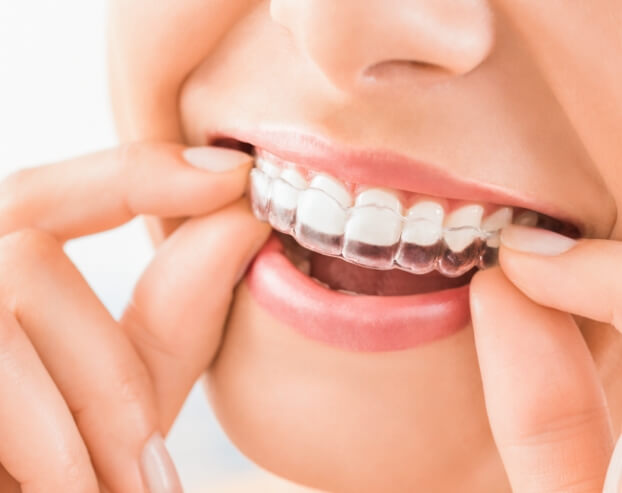 Invisalign treatment relies on the use of clear aligners to create the desired smile improvements. Using our impressions of your unique mouth, the Invisalign laboratory creates a series of these aligners, with each one representing a different stage of your teeth as they're gradually shifted towards the proper position. The patient's job is to wear each aligner as directed for a set period (usually 2 weeks) and then switch to the next aligner in their unique set. During this time, you will also be visiting our dental office at regular intervals so that we can ensure that things are moving correctly.
Why Should I Choose Invisalign?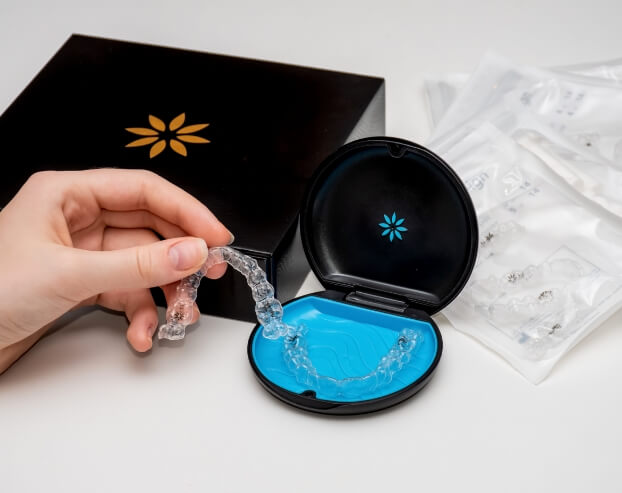 If you're interested in maintaining a natural appearance during your orthodontic treatment, Invisalign is the best option available. The clear aligners blend in well with your smile and are barely noticeable by a passerby. Your Invisalign aligners are also removable, which means that patients can continue to enjoy all of their favorite foods without worry. Instead of dealing with irritation from orthodontic wires, patients can enjoy added comfort with customized and smooth plastic aligners. Every case is different, but most patients will be finished with Invisalign treatment somewhere between 6-18 months, which is superior to the typical multiple-year process of traditional braces.
Indications for Invisalign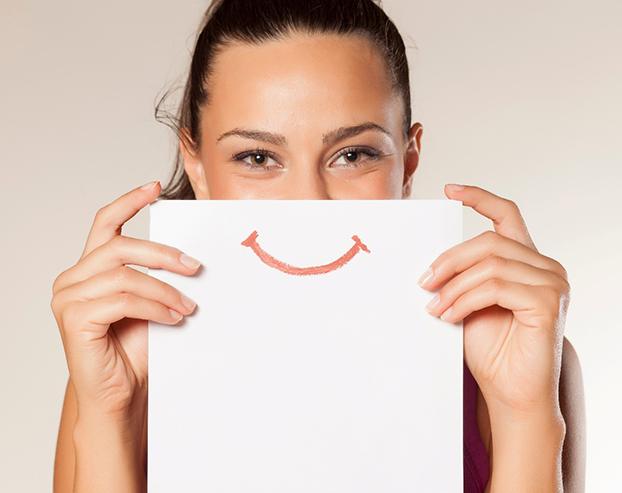 Here are several orthodontic issues that can be addressed with Invisalign:
Crowded Teeth
Having crowding issues in your smile can often make you feel like you have too many teeth. This can sometimes interfere with your cleaning routine, increasing your risk of dental health issues like gum disease and tooth decay. With Invisalign, your clear aligners can gradually shift your teeth into a more ideal position.
Gaps Between Teeth
While gaps in your teeth might simply feel unappealing, they can also make you more susceptible to cavities and infection. This is because food particles can easily get stuck in the spaces between your pearly whites, leading to decay and bad breath. Invisalign aligners can effectively push your teeth closer and into a healthier position for an attractive smile.
Bite Alignment
Bite misalignment can typically put excessive pressure on your temporomandibular joint (TMJ). If left unchecked, this can cause issues like TMJ disorder and teeth clenching/grinding. Invisalign can correct many issues like overbites, underbites, and crossbites to make your mouth more comfortable.
The Benefits of Invisalign
By undergoing Invisalign treatment, you can expect to enjoy the following benefits:
Comfortable fit: Unlike traditional braces, your clear aligners will be constructed of smooth plastic, making them more comfortable to wear. They'll also be specifically designed to fit your smile to avoid irritating your gums or lips.
Convenience: You'll be able to remove your Invisalign aligners whenever you want to eat. This means you can continue enjoying your favorite meals throughout your treatment. Your teeth will also be much easier to brush and floss during the process.
Virtually unnoticeable: Since your clear aligners are practically invisible, the only ones who'll know you're undergoing Invisalign will be you and your dentist. You also won't have to worry about hiding your teeth when you smile, as you can still show off your bright pearly whites.
Understanding the Cost of Invisalign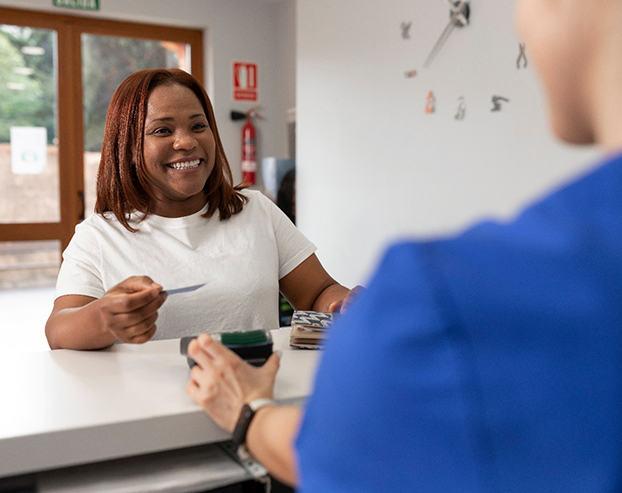 The only way to know how much Invisalign will cost will be to schedule an initial consultation with our dental office. Several factors can affect your specific treatment, such as the severity of your misalignment and the number of aligners you'll need. Our team will evaluate your dental situation, determine the necessary process to achieve your best results, and inform you of the overall cost. If you wish to know more about what you can expect from Invisalign, or how to make the most of your budget, then feel free to reach out to us today!
Factors That Impact the Cost of Invisalign
There are three main factors that we'll take into account when determining the cost of Invisalign in Boston:
Number of Aligners Needed: The primary factor is going to be the number of Invisalign trays you'll need in order to reach your ideal results. This largely depends on the complexity of your orthodontic issues. For example, extensive bite misalignment will likely require more trays to fix than minor crowding.
Whether Both Arches are Being Straightened: In some cases, although rarely, your dentist in Boston may only recommend straightening a single arch. This will be less costly than both arches as it will require half the number of aligners.
Compliance with Treatment: Breaking, losing, or otherwise damaging an aligner can set back your treatment timeline as well as possibly require you to pay for a replacement.
Additional Accessories: In some cases, Invisalign treatment may involve elastics, chewies, or other accessories to help your teeth move more predictably.
Invisalign vs. Smile Direct Club™: What's the Best Value?
Although Smile Direct Club™ may have the lower up-front cost, it's important to consider the treatment as a whole and its value. Not only is the process not overseen by a professional, but these mail-order trays are created based on impressions that you collect at home, which may not be accurate. This can lead to a variety of possible complications, ranging from spacing problems to a lack of blood flow to the gums. Ultimately, it's best to invest in a higher-quality treatment that will provide you with wonderful results that you can trust.
Will Dental Insurance Cover Invisalign Treatment?
While some dental insurance plans cover the cost of orthodontics for adults and teens, others don't. This largely depends on the type of coverage you opted-in for and your individual plan's details. Our team is happy to help you get the most out of your insurance and minimize your out-of-pocket costs in any way we can. We're proudly in-network with several major PPO plans, including Delta Dental Premier, BlueCross BlueShield, Cigna, and more.
Invisalign FAQs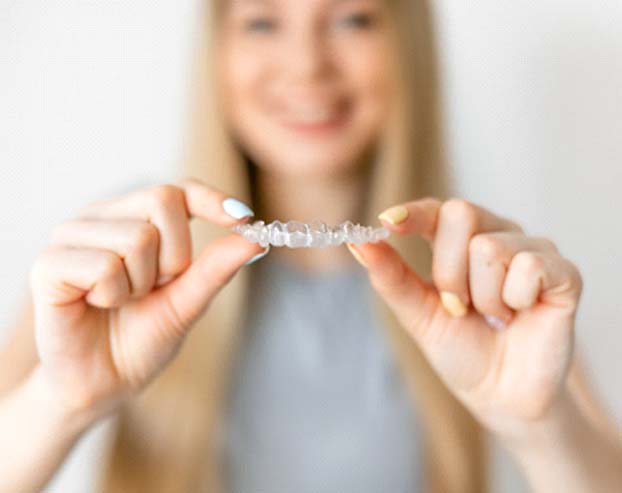 Want to learn more about Invisalign in Boston? Good news: our team is here to help! For specific questions, we encourage you to call our team or to write them down and bring them with you to your consultation. If you simply want to learn a bit more about the process, timelines, and what you can eat with Invisalign, then keep reading.
How Long Does Invisalign Take?
If you're curious about the length of time you'll need to commit to Invisalign, then it's best to schedule a consultation. That way, our Boston cosmetic dentist can assess the severity of your misalignment, how many trays you'll need, and other important factors to determine your treatment timeline. With all that said, the average time it takes to complete Invisalign is 12-18 months (which is quite quick considering traditional braces can take 24+ months). The best way to stay on track with your treatment plan and work through your series of aligners on time is by following all of your dentist's instructions, like wearing the trays for 22 hours a day.
Does Invisalign Hurt?
If you're worried about Invisalign being painful, you can take a breath; it isn't. Since each tray is custom-made and doesn't have any brackets or wires, they are considerably more comfortable than traditional braces. While you will likely experience some soreness immediately following the transition to a new set of aligners, you can easily alleviate it will a cold compress, an over-the-counter pain-reliever, or a mixture of the two.
What Happens After Invisalign?
Following your Invisalign treatment, you'll be given a retainer. Don't worry – there are clear options that are just as discreet as your Invisalign aligners to avoid drawing unwanted attention to your smile. While the exact guidelines will vary depending on your dental needs, there is a good chance you'll be asked to wear yours as much as possible for the first six months or so. Once your teeth have "set," you'll get the green light from your dentist to begin slowly transitioning to wearing them only at night. To prevent orthodontic relapse, it's best to make this a lifelong habit.
Can You Eat with Invisalign?
While you can't eat while they are in your mouth, you can eat whatever you'd like while they are out. That's one of the many perks of Invisalign – no dietary restrictions! Of course, it's best to continue to stick to vitamin-rich foods that will help keep your teeth and gums healthy, like fresh fruit, cooked vegetables, filling carbs, and lean proteins. Note: it's of the utmost importance that you rinse off your aligners and place them in their designated storage case (not a napkin!) while you're eating to avoid accidentally losing or misplacing them.
Does Invisalign Give You a Lisp?
When you first get your aligners, you may experience a slight lisp. However, it's worth noting that a large number of patients don't experience any changes to their speaking patterns. Plus, those that do can have peace of mind knowing the adjustment period will be short. To expedite the process, try reading out loud. While you're in the car, doing chores, or have some downtime, you can count from 60 to 90 – this will help you practice some of the more difficult to pronounce words.