Meet Your Downtown Boston Dentist
Althea Angel, DMD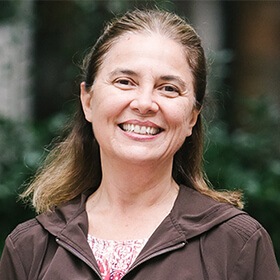 Dr. Althea Angel has been practicing dentistry for over 30 years, and she loves how this unique field enables her to improve a person's health, appearance, and confidence all at the same time. She has been with Devonshire Dental for over 25 years.
Dr. Angel is a Boston native, and after graduating from Wellesley College, she went on to get her Doctor of Medicine in Dentistry degree from the Harvard School of Dental Medicine. Always in the pursuit of more knowledge, she has also completed the master's program in immunology at Tufts University and attended some of the most prestigious continuing education institutions in all of dentistry, including the Misch Implant Institute, Kois Center, Pankey Institute, as well as the Seattle Study Club.
She attributes her longevity in dentistry to the great people she gets to meet every day at our practice, as well as having the privilege to work with such a wonderful team. Away from the office, Dr. Angel likes to stay busy spending time with her husband, two sons, identical twin daughters, and five (soon to be six!) grandchildren. In her few free moments, she enjoys reading, cycling, and horseback riding.