Cosmetic Dentistry – Boston, MA
Complete Confidence with Every Smile
At Devonshire Dental of Boston, we understand that image is very important for many of our patients. Truthfully, even healthy teeth can end up falling victim to common cosmetic flaws like stains, chips, cracks, and more – but our team of experienced dentists has a solution. Our cosmetic dental services can create dazzling transformations, helping you finally smile with all the confidence you deserve. All you need to do is schedule a consultation to discuss cosmetic dentistry with our Boston, MA cosmetic dentist to get started!
Why Choose Devonshire Dental of Boston for Cosmetic Dentistry?
Led by Friendly Husband
& Wife Dentists
BOTOX Provided
In-House
Located Right in the
Financial District
Porcelain Veneers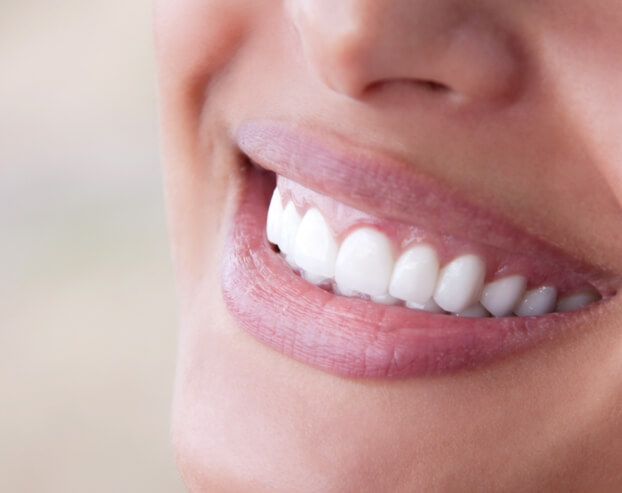 Porcelain veneers are dental restorations that are designed to be extremely thin. This is so they can fit comfortably and naturally over the visible surfaces of your natural teeth, hiding years of cosmetic imperfections safely from view. Veneers are ideal for patients who'd like to give certain teeth a complete makeover; they can even be used to alter the size or shape of these teeth to better match the rest of your smile.
Veneers are crafted from high-quality, tooth-colored ceramic materials, and their resistant nature helps them stand up to gradual staining better than your original tooth enamel. With proper maintenance both at home and in our dental office, patients can expect to enjoy them for 10-15 years or even longer.
Metal-Free Dental Crowns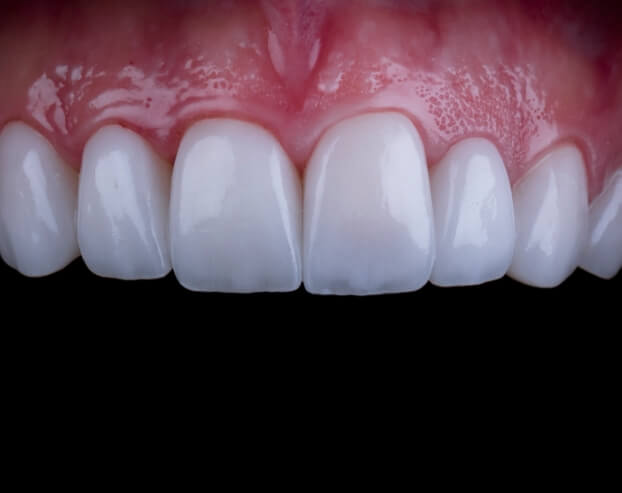 Having to choose between correcting dental problems with restorative work and sacrificing your natural smile can be a heart-wrenching one – that's why our doctors are proud to have combined the best of both worlds in metal-free restorations like crowns, inlays, onlays, bridges, and more. These restorations are crafted from tooth-colored materials that both feel and look like your original tooth enamel; in fact, they even reflect light in the same way! They're also durable, functional, and even safe for patients with metallic sensitivities or outright allergies.
Dental Bonding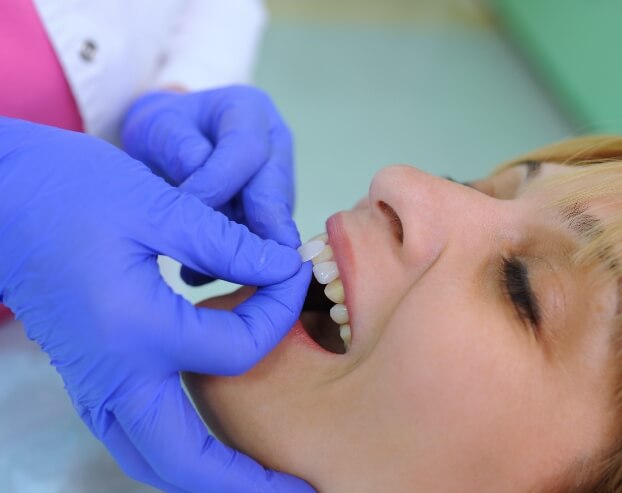 If your smile is suffering from minor chips, cracks, or gaps between teeth, direct bonding is the easiest way to correct the problem. This useful cosmetic service only takes a single appointment, and the results can serve you well for several years. One of our doctors will simply apply tooth-colored composite resin (the same material used for tooth-colored fillings) to the affected area of the tooth and then sculpt it into a pleasing, seamless addition that covers the problem.
Learn More About Direct Bonding
Teeth Whitening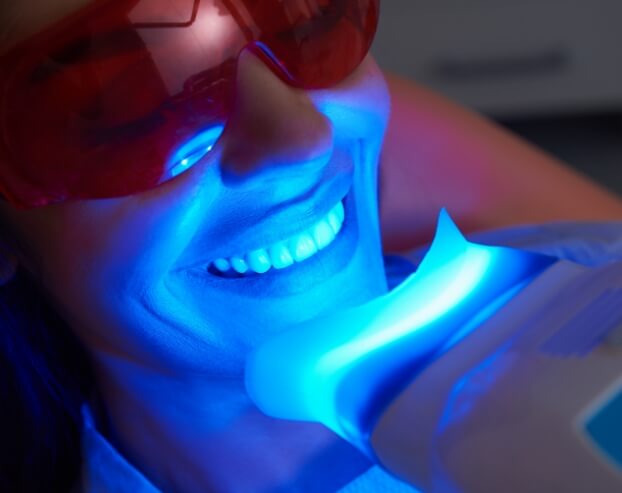 Teeth whitening is easily one of the most popular cosmetic services in the dental field today, and it's not hard to understand why. A wide variety of circumstances can lead to discolored and stained smiles, including coffee, wine, certain fruits, medications, old age, and even simple genetics. If you're ready to refresh your look, in-house teeth whitening is the answer! This procedure is completed over the course of just a single appointment, and patients can expect their tooth enamel to be several shades brighter by the end.
Learn More
At-Home Teeth Whitening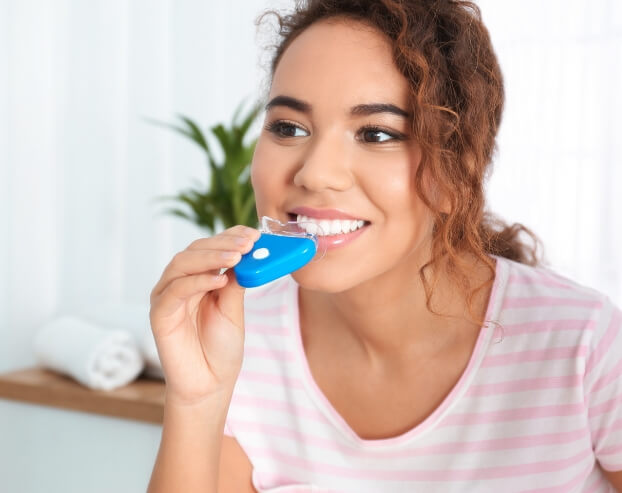 Some of our patients aren't interested in making big, dramatic changes to their smiles overnight. Instead, they'd like to undergo a more gradual transformation that happens on their own schedule. In this case, we can provide high-grade whitening gel and custom-made oral trays. Your only job is to combine the two and wear them together for a certain amount of time (usually an hour or two) each day, whenever you have the free time. Many patients see improvement after only one use!
Gum Recontouring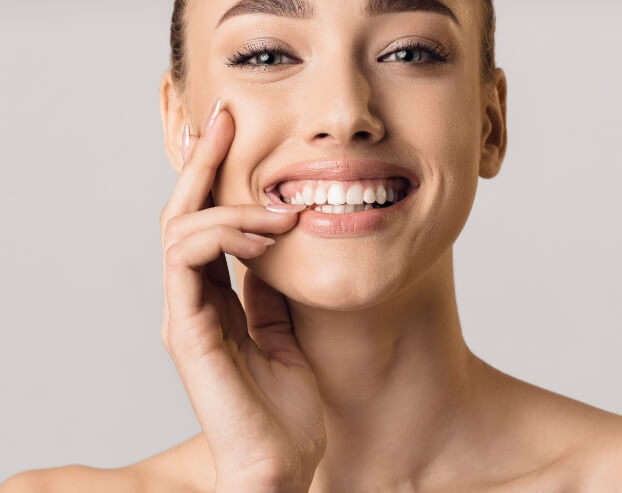 Many patients are surprised to learn that their teeth aren't actually the culprit when it comes to a smile that appears overly short or uneven– it's the gum tissue! An excess amount can cover perfectly healthy and beautiful tooth structure from view for no reason, as well as cause symmetrical issues that leave patients self-conscious. Our doctors can contour the gum line to correct these problems, removing unnecessary gum tissue and carefully shaping the area to create a pleasing and normal appearance.
Botox & Dermal Fillers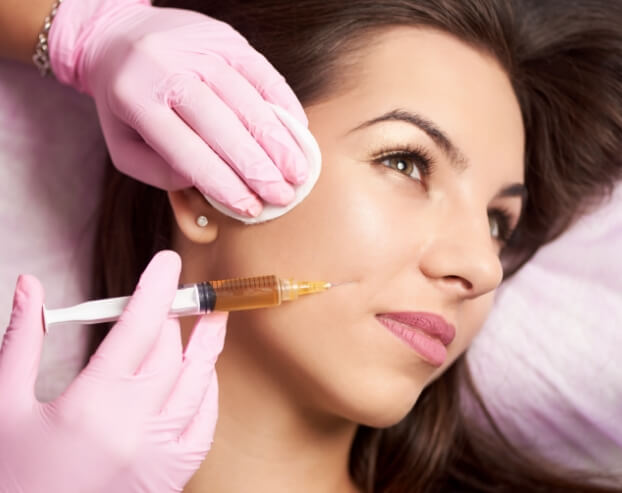 While Botox and dermal fillers might not be the first things that come to mind when you think of the dentist, these services feel right at home in our dental office. Most of the time, facial wrinkles become most prominent when someone smiles, so by providing these treatments in-house, we can enhance your teeth and face at the same appointment! Dr. Rizkallah is one of the very few dentists who offers Botox and dermal fillers in Boston, and she's able to achieve some amazing results all while saving you a trip to the spa.
Learn More About Dermal Fillers
Virtual Smile Design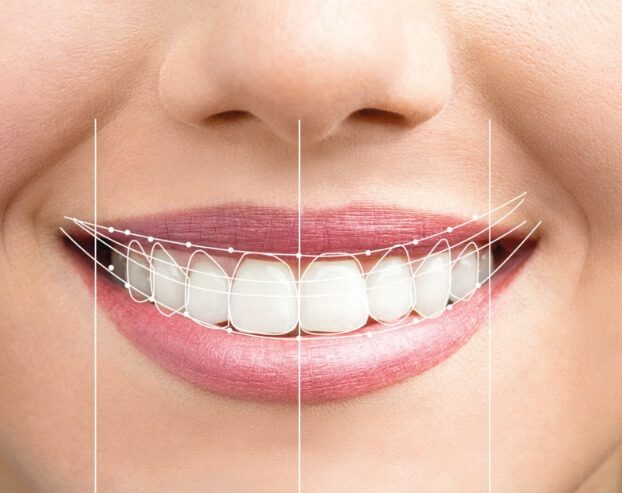 Deciding to get any treatment that will change the look of your smile is a big decision, so you deserve to be as sure as possible before committing to a procedure. With Virtual Smile Design, we can take a digital photo of you and then edit it with software to show you how you'll look after getting veneers, whitening, or any other cosmetic dentistry you're considering. You can design your perfect result right next to your dentist so you know exactly what to expect when you look in the mirror the first time.
Understanding the Cost of Cosmetic Dentistry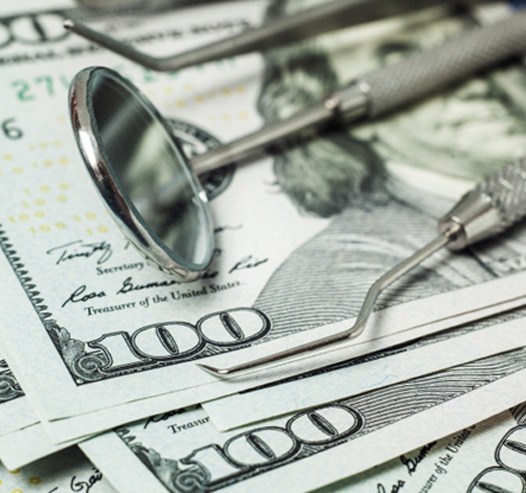 Like many people, you may worry about the cost of cosmetic dentistry in Boston. After all, many aesthetic treatments aren't covered by dental insurance plans. In truth, though, we at Devonshire Dental of Boston will work with you to ensure affordable care. More specifically, we'll help you navigate your dental needs and find the best solution for your situation. Our practice has many services at different costs, so we guarantee you'll get the priceless smile you deserve!
Which Cosmetic Dental Service is Right for Me?
If you're considering cosmetic dentistry, you're likely looking for one (or more) of three things: Whiter teeth, straighter teeth, or differently shaped teeth. However, keep in mind our procedures have varying focuses. As such, some treatments are better suited for one cosmetic aspect than another.
Fortunately, your cosmetic dentist in Boston will help you weigh possible options. These include:
Teeth Whitening – As you'd expect, this procedure is ideal for patients who want a brighter smile. It's cost-effective, too, as whitening is relatively fast and has a midrange price. Still, you should know that it can't help tooth shape or position.
Dental Bonding – Using tooth-colored resin, bonding affordably hides minor tooth chips and cracks. Therefore, it's great for small changes and reshaping damaged teeth. That said, the treatment only lasts a few years at most.
Metal-Free Restorations – These include dental crowns, fillings, and bridges. By relying on tooth-colored materials, they blend seamlessly with surrounding teeth. These are lower-to-mid-cost options.
Porcelain Veneers – Veneers are porcelain shells that transform many aspects of one's smile. Though expensive, they last for over a decade if cared for properly.
Botox & Dermal Fillers – Botox and dermal fillers tighten wrinkled skin and help your face look younger. They are mid-cost options.
Cosmetic Dentistry Can Be a Worthwhile Investment
Admittedly, the cost of cosmetic dentistry isn't always low. Even so, treatment is an excellent investment that pays off over time.
You see, cosmetic dental work greatly improves your quality of life. If you once felt self-conscious over stained teeth, it can give you an amazing smile that boosts your confidence. From there, you'd see improvements in your personal and work relationships. (You might even find better dates or get a work promotion.) That being the case, cosmetic treatments offer priceless perks that justify their cost!
If you'd like to learn more about cosmetic dental costs, book a consultation with our office. Devonshire Dental of Boston would be happy to give you a smile that fits your budget! To that end, don't be a stranger — call us today!
Cosmetic Dentistry Frequently Asked Questions
If you're dissatisfied with the smile you see in the mirror, it might be time to visit your cosmetic dentist in the Financial District. Our team is wholeheartedly dedicated to boosting your confidence by helping you attain a set of pearly whites you can't wait to show off. Just give us a call to learn more about how you can get started. We'll be happy to address any concerns you may have. In the meantime, we've answered a few of the questions we get asked the most often.
How Much Does Cosmetic Dentistry Cost?
The answer to this question is different for every single patient. The price of your treatment will depend on the imperfections you wish to correct and which services will best accomplish that goal. Generally speaking, quick and easy services like bonding and teeth whitening cost less than more personalized services like porcelain veneers. After discussing your options at your consultation, we can lay out a cost estimate for you.
Can I Use My Dental Insurance?
Since most cosmetic procedures are not deemed necessary to restore or improve your oral health, dental insurance is unlikely to cover them. However, some treatments, like dental crowns, might actually be required to preserve the structural integrity of your tooth. In that case, your insurance might partially cover the cost.
Here at Devonshire Dental of Boston, we are in-network with Delta Dental and BlueCross BlueShield. Even if you have a different plan, though, we can gladly take a look at it to find out if you qualify for any benefits.
How Long Will My Results Last?
It depends on which services you receive. Gum recontouring delivers permanent results, and the results of Invisalign can last a lifetime if you wear your retainer as prescribed. For most of our other services, your results will usually last longer the better you take care of your teeth with proper oral hygiene and routine checkups with your dentist in the Financial District.
Does Cosmetic Dentistry Come with Any Health Benefits?
Believe it or not, getting cosmetic dental work done can sometimes make your smile healthier. For instance, straightening your teeth with Invisalign can make them easier to clean, reducing your risk for cavities. Gum recontouring can make you less likely to develop gum disease. Dental crowns can protect a vulnerable tooth from additional damage. Even a simple teeth whitening treatment can improve your oral health. Seeing a bright smile in the mirror will make you more inclined to keep it that way. Many patients find that they're more likely to brush, floss, and see us for checkups regularly after they've improved their smiles with cosmetic dentistry.