Veneers – Boston, MA
Revamp Your Smile With Veneers
Here at Devonshire Dental of Boston, we always view your oral health as our number one priority, but we understand that aesthetics are important as well. That's why we offer veneers in our Boston, MA dental office, a cosmetic treatment that can makeover your smile and give you a grin that turns heads wherever you go.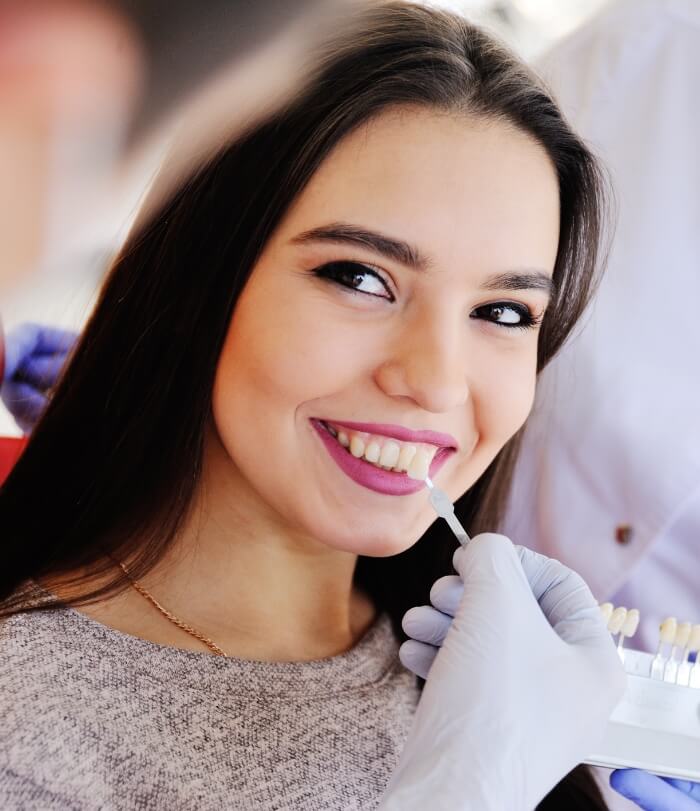 Why Choose Devonshire Dental of Boston for Veneers?
See Results Before Treatment with Virtual Smile Design
Designed to Look Natural & Never Overdone
Led by Friendly Husband & Wife Dentists
What Is It Like to Get Veneers?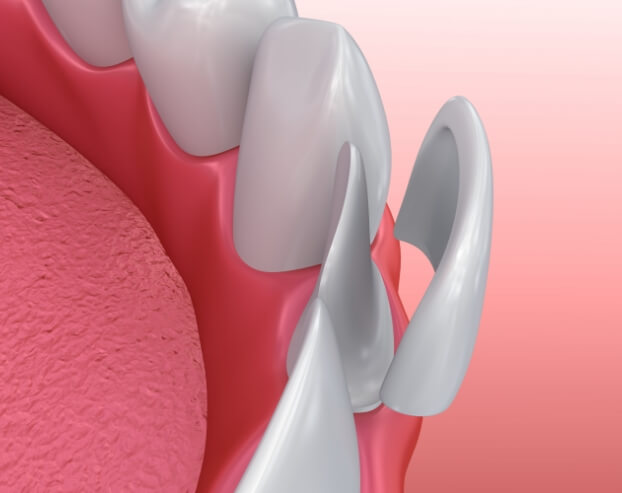 Dentall veneers are custom-made, ultra-thin pieces of porcelain that your cosmetic dentist in the Financial District permanently attaches to the fronts of your teeth. Generally, the process for receiving these little wonders takes at least two dental appointments.
First, we'll make sure that your teeth and gums are healthy enough to support veneers. Once that's a sure thing, we'll start preparing your teeth. We'll have to remove a tiny bit of enamel from them so the veneers will align with your natural smile. Then, we'll take some impressions and measurements. That information goes off to a laboratory, which will craft your custom tooth covers with expert care.
You'll wear a temporary veneer to protect your teeth until your next appointment, where we'll install your amazing new look.
What Cosmetic Dental Issues Can Veneers Fix?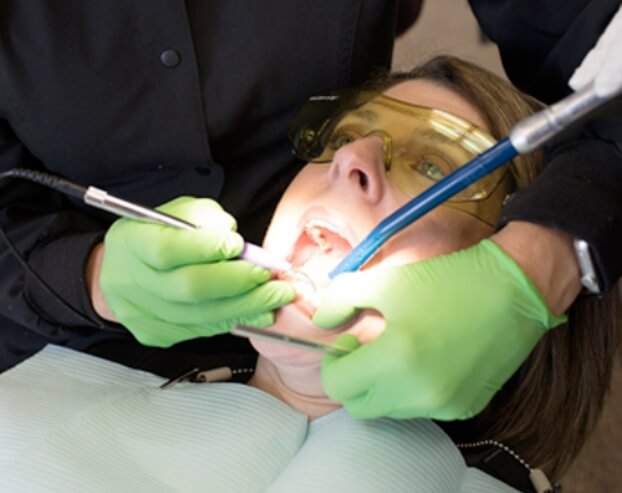 Veneers have the power to disguise pretty much anything you don't like about your smile. They can cover:
Whether your teeth are yellow from bad habits or genetics, veneers can cover those unsightly stains.
Cracks and chips. Remember that time you bit down on an unpopped popcorn kernel and broke your front tooth? A veneer can make that oops go away.
If the teeth on one side of your mouth don't look as good as those on the other side, veneers can make up for the difference.
Minor misalignment and gaps. Invisalign or braces are necessary for major orthodontic problems, but if the issue is solely cosmetic, veneers could be the ideal solution.
Teeth that are too small. Disproportionate teeth can be unattractive. Veneers are able to create the illusion that your teeth are larger.
How Can You Get the Most Out of Your Veneers?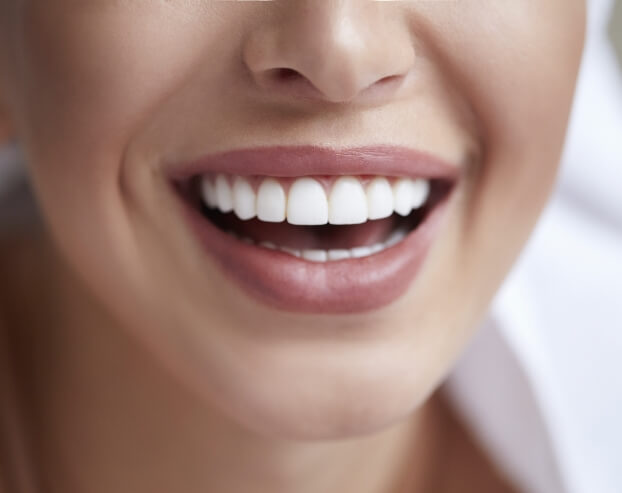 One of the best things about veneers is that they have a long lifespan. On average, they can endure for 10 – 15 years! To make sure your smile looks as good as possible for as long as possible, though, you'll need to take some steps to maintain your stunning new look:
Stick to an excellent oral hygiene routine. If the teeth beneath your veneers start to decay, it could ruin the effects of your cosmetic treatment.
Limit your consumption of dark foods and beverages. Veneers are more resistant to stains than natural tooth enamel, but they can become discolored over time.
Don't bite on anything too hard (like ice) that could potentially break your veneers.
Visit your dentist regularly. We'll check to make sure that everything is A-Okay with your veneers and the teeth underneath them.
If you'd like to learn more about veneers and discover if they're right for you, please get in touch with us! We love to help our patients love their smiles.
Understanding the Cost of Veneers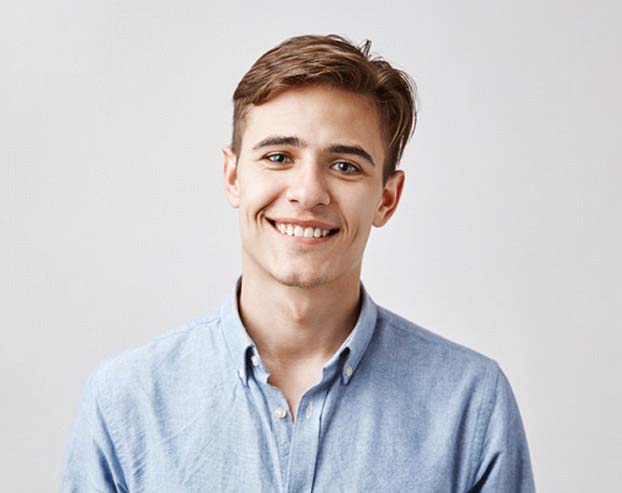 Before committing to getting veneers, you'll probably want to know more about the overall cost of treatment. Even with all the benefits, the procedure is irreversible, so you'll need to be sure that this is a worthwhile investment for your smile goals. Since there are several other cosmetic treatments you can consider, it's a good idea to compare your options to determine their cost-effectiveness. Our team at Devonshire Dental of Boston can explain the cost of veneers in Boston to help make this process easier for you. Read on or call our friendly staff if you'd like to learn more today!
A Brief Look at the Cost of Cosmetic Dentistry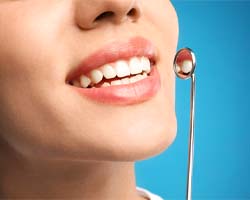 While veneers might seem like the ideal option for most people, it's still a smart move to understand the other available treatments for enhancing your smile. Each procedure has its unique benefits and costs to help achieve a certain kind of result. By comparing the following cosmetic dental treatments, you can have a clearer idea of what to expect from them and how they fit with your dental needs:
Invisalign : This is the quickest and most discreet method for correcting misalignment issues. From crooked teeth to minor overbites, Invisalign aligners can shift your pearly whites into a perfectly straight smile. This procedure, however, won't change the size, shape, or color of your teeth, which might need to be addressed with additional cosmetic treatments.
Teeth Whitening : If you have stubborn stains or discoloration in your smile, then you may benefit from teeth whitening. Not only is this treatment affordable and effective, but you can also complete the procedure in just one visit! While this option brightens your pearly whites by several shades, it won't treat other minor dental imperfections. Your results may also last from two months to a few years depending on how you care for them. You'll eventually need a touch-up appointment to retain your shiny smile, which will become costly over time.
Dental Bonding : This treatment consists of a minimally invasive process to repair mild dental flaws. These include small stains or chips, which can be treated in a single appointment. Although this treatment is effective at restoring your smile, the results will only last around 10 years before needing a replacement, whereas veneers can last about 20 years with proper care.
Veneers : This procedure may have a higher initial cost compared to other cosmetic treatments, but you'll be able to alter the color, size, shape, and alignment of your teeth in just a couple of visits. Afterward, you can be sure to enjoy the dream smile you've always wanted. Your new teeth will only need minimal maintenance to preserve them, and they won't require regular adjustments as frequently as other options. This can save you more money in the long run!
Feel free to reach out to our knowledgeable team if you have any questions. We'll be more than happy to discuss your treatment plan and your financial options during your consultation to help you manage the cost of veneers in Boston.
Veneers FAQs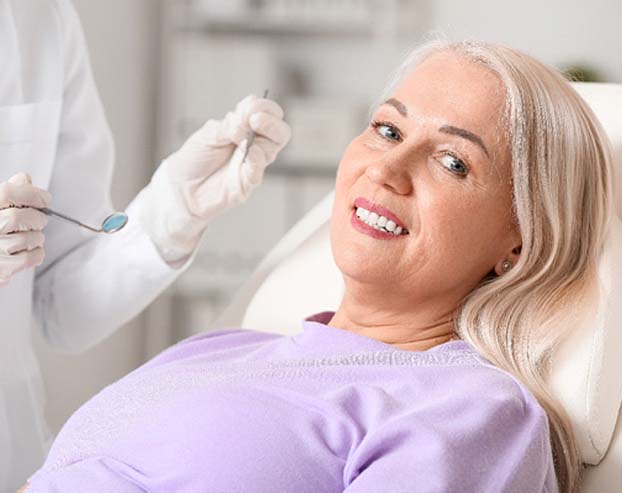 With the numerous benefits of veneers, you can be sure to enjoy your dream smile after completing the procedure. However, it's normal to want to understand as much as possible about the treatment before investing in it. After all, the changes made to your enamel will be permanent, so you'll want to be certain that this option is right for you. For this reason, our team at Devonshire Dental of Boston has collected and answered some of the most commonly asked questions about veneers in Boston. Feel free to reach out to our office if you don't see the specific information you're looking for!
Are Veneers Permanent?
While veneers are made out of durable porcelain, they aren't permanent. Before receiving them, we will have to prepare your teeth by removing a tiny portion of the front surface. This process is irreversible, as the enamel will not grow back on its own. That's why we'll thoroughly customize your porcelain shells to fit your smile goals. Fortunately, by practicing proper dental hygiene, your veneers can typically last you 15+ years before needing a replacement. This also means visiting our team for routine checkups and cleanings twice a year, and avoiding hard items like ice to preserve your brand-new smile.
Do Veneers Feel Like Real Teeth?
Yes! Firstly, veneers are not a one-size-fits-all treatment. The porcelain shells are custom-crafted to enhance your specific smile. Secondly, a small portion of your enamel will be removed to make room for your veneers, that way your teeth appear as natural as possible. Lastly, they'll be made out of porcelain, meaning they'll provide a smooth texture while protecting your gums, tongue, and other oral tissues from irritation.
Can I Still Drink Coffee with Veneers?
You can still enjoy a fresh cup of joe if you have veneers. Not only can they enhance the size and shape of your teeth, but they're also non-porous and highly resistant to staining. Although you won't have to worry about pigmented discoloration showing up easily, your veneers aren't stain-proof. If you do drink coffee, try to at least use a straw to minimize contact with your pearly whites. You should also make sure to rinse your mouth often to clear away dark-colored particles and brush your teeth frequently to keep your veneers in pristine condition.
Is There Anything I Can't Eat with Veneers?
After preparing your teeth, you'll have to wait a couple of weeks before receiving your final veneers. Until then, we'll provide you with a temporary set to protect your natural pearly whites. Since these aren't as durable as porcelain shells, you may want to avoid crunchy and chewy foods to prevent damaging them. Once we place your final veneers, you'll be able to enjoy all your favorite meals with a more durable smile. However, you should consider limiting sugary foods and beverages, as your natural teeth can still develop cavities. Be careful with snacks like popcorn, caramel apples, and other treats that can harm your veneers.