Porcelain Veneers – Boston, MA
Revamp Your Smile With Veneers
Here at Devonshire Dental Associates, we always view your oral health as our number one priority, but we understand that aesthetics are important as well. That's why we offer procelain veneers in our Boston, MA dental office, a cosmetic treatment that can makeover your smile and give you a grin that turns heads wherever you go.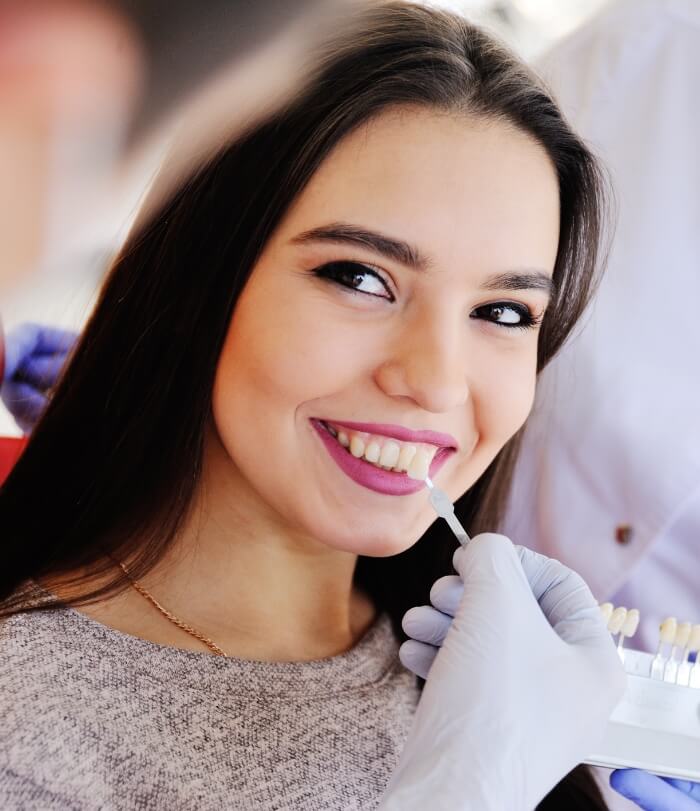 Why Choose Devonshire Dental Associates for Veneers?
See Results Before Treatment with Virtual Smile Design
Designed to Look Natural & Never Overdone
Led by Friendly Husband & Wife Dentists
What Is It Like to Get Porcelain Veneers?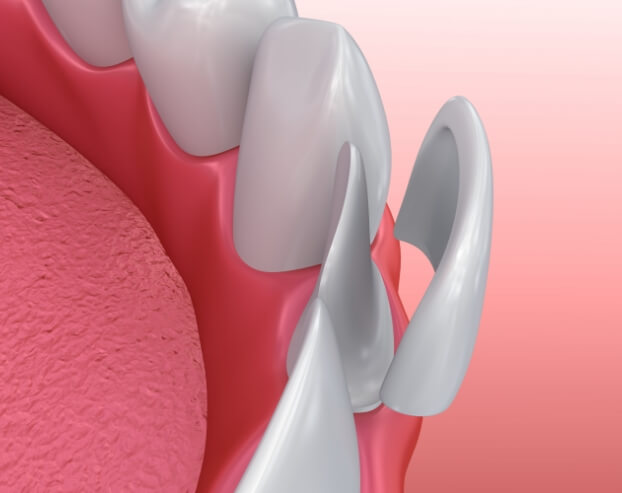 Porcelain veneers are custom-made, ultra-thin pieces of porcelain that your cosmetic dentist in the financial district permanently attaches to the fronts of your teeth. Generally, the process for receiving these little wonders takes at least two dental appointments.
First, we'll make sure that your teeth and gums are healthy enough to support veneers. Once that's a sure thing, we'll start preparing your teeth. We'll have to remove a tiny bit of enamel from them so the veneers will align with your natural smile. Then, we'll take some impressions and measurements. That information goes off to a laboratory, which will craft your custom tooth covers with expert care.
You'll wear a temporary veneer to protect your teeth until your next appointment, where we'll install your amazing new look.
What Cosmetic Issues Can Porcelain Veneers Fix?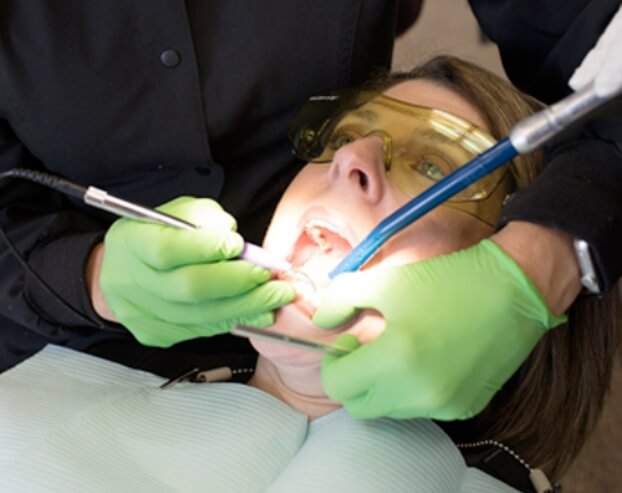 Veneers have the power to disguise pretty much anything you don't like about your smile. They can cover:
Whether your teeth are yellow from bad habits or genetics, veneers can cover those unsightly stains.
Cracks and chips. Remember that time you bit down on an unpopped popcorn kernel and broke your front tooth? A veneer can make that oops go away.
If the teeth on one side of your mouth don't look as good as those on the other side, veneers can make up for the difference.
Minor misalignment and gaps. Invisalign or braces are necessary for major orthodontic problems, but if the issue is solely cosmetic, porcelain veneers could be the ideal solution.
Teeth that are too small. Disproportionate teeth can be unattractive. Veneers are able to create the illusion that your teeth are larger.
How Can You Get the Most Out of Your Porcelain Veneers?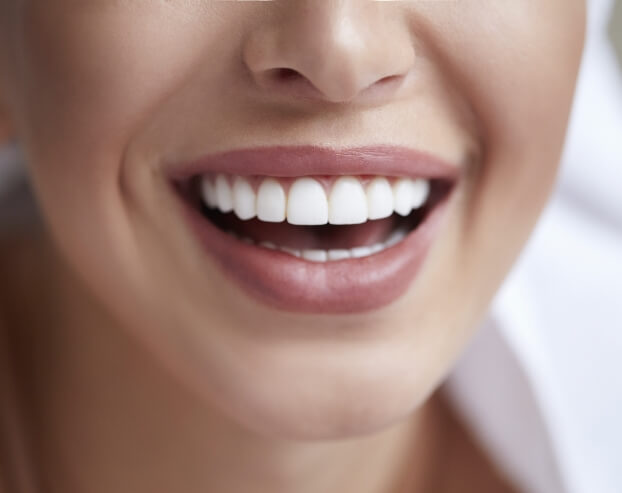 One of the best things about porcelain veneers is that they have a long lifespan. On average, they can endure for 10 – 15 years! To make sure your smile looks as good as possible for as long as possible, though, you'll need to take some steps to maintain your stunning new look:
Stick to an excellent oral hygiene routine. If the teeth beneath your veneers start to decay, it could ruin the effects of your cosmetic treatment.
Limit your consumption of dark foods and beverages. Veneers are more resistant to stains than natural tooth enamel, but they can become discolored over time.
Don't bite on anything too hard (like ice) that could potentially break your veneers.
Visit your dentist regularly. We'll check to make sure that everything is A-Okay with your veneers and the teeth underneath them.
If you'd like to learn more about veneers and discover if they're right for you, please get in touch with us! We love to help our patients love their smiles.