Dental Implants - Downtown Crossing
Complete Your Smile with Implant-Retained Crowns and Bridges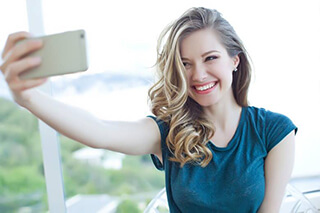 Dental implants in Downtown Crossing are a comprehensive tooth replacement option that offer a wonderful solution for patients who have lost any number of teeth from anywhere in the jaw. In cases where some pearly whites still remain, an implant-retained crown or bridge can complete the smile once again over the span of 6 to 12 months. Keep reading to learn more about this restorative treatment and whether or not it may be right for you.
Implant-Retained Crowns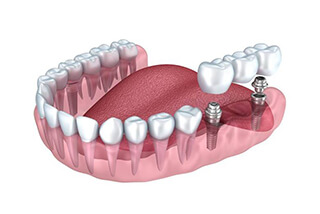 In cases of single tooth loss, an implant-retained crown can fill in the gap without altering the teeth around it, which is necessary with a traditional fixed bridge. A sturdy implant post is placed beneath the gum line and allowed to grow together with the jaw bone. This fusion process is known as "osseointegration." Once the implant post is secure within the mouth, it is then restored with a natural-looking crown which has been custom fabricated according to the specifications of your smile. The crown can be made from porcelain, porcelain fused-to-metal, gold, silver, or zirconia. An implant-retained crown can last for decades with proper care and maintenance.
Implant-Retained Bridges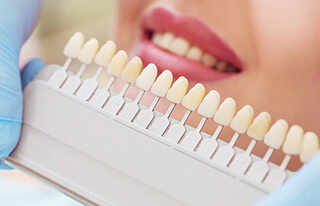 An implant-retained bridge offers a way to replace multiple missing teeth with superior aesthetic appeal and function. This method provides more stability compared to a traditional bridge.
If 2 to 3 teeth are missing consecutively, an implant-retained bridge can usually be secured on just 2 dental implant posts. The total number of dental implants that you require will depend on where in the jaw the missing teeth are located. This method usually takes from 6 months to one year to complete.
Benefits of Implant-Retained Crowns and Bridges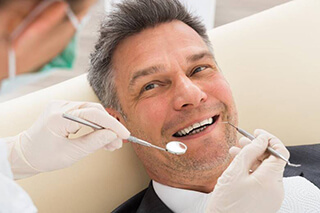 The advantages of this tooth replacement option are numerous compared to traditional methods like a fixed bridge. Some of the most considerable advantages of an implant-retained crown or bridge include the following:
Dental implants stabilize the jaw bone to promote better oral and overall health
A sturdy tooth replacement prevents the surrounding teeth from moving out of place
Dental implants support a balanced, nutritious diet
It is easier to speak clearly with dental implants
Dental implants do not require the alteration of the surrounding teeth
Prior dental misalignments can be corrected with dental implants
When cared for properly, dental implants can last a lifetime
Dental crowns in downtown Boston can be customized to match your smile perfectly
Dental implants are by far the best financial investment you can make
Are you interested in learning more about implant-retained crowns and bridges and whether or not this option may be right for you? Then please don't wait to get in touch with your restorative dentist in downtown Boston. We can't wait to help you enjoy all the benefits of an implant-supported tooth replacement!