May 16, 2018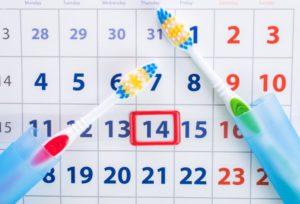 There are lots of reasons why people neglect dental care. Some people are afraid of needles, some are afraid of pain, and others just think it is inconvenient to visit their dentist. We're on a quest to change the way you think about dentistry, which is why we offer gentle, compassionate service — and we do it according to your schedule. At your dentist in downtown Boston, we've recently expanded our office hours so you can come see us without taking precious time out of your regular routine.
Early Appointments Available Three Days a Week
We're now open starting at 7 a.m. on Tuesdays, Wednesdays, and Thursdays. Therefore, you're welcome to come in for an early appointment before you go to work or school. We'll do our best to get your treatment taken care of quickly and efficiently so you can be out the door with a fresh smile before you get started on your daily tasks.
Of course, we understand if you're not an early bird. We're open until 5 p.m. Tuesday – Friday and until 4:30 p.m. on Mondays. Just let us know which appointment slot works best for you, and we'll do our best to accommodate. You're even welcome to come in during your lunch break for your appointment.
Our Convenient Location
An early appointment might not do you much good if you have to go far out of your way to visit your "dentist near me." Our office is easy to get to if you live, work, or attend school in the downtown Boston area. We're in the heart of the financial district, right on the corner of Devonshire and Franklin. Plus, there is a bus stop right down the block from us — you can take public transportation and not have to worry about parking! On the other hand, if you prefer to drive, there is a garbage nearby.
You'll be especially grateful for our location if you ever run into a dental emergency. When you suddenly find that a severe toothache or other serious oral health problem is disrupting your work day, head over to our office for prompt attention. We have several on-staff doctors who do their best to take care of urgent situations as soon as possible.
Compassionate Care for a Stunning Smile
We highly respect your time and your schedule, but that doesn't mean we aren't also committed to providing you with amazing dental care. You'll find that we provide top-notch services with precision and gentleness. Even children feel at ease in our office, so if you have little ones in your family who need some tooth care, please bring them in. We'd be happy to care for them before they head off to school or after class is dismissed for the day.
If your schedule was holding you back from visiting the dentist, you are out of excuses! Thanks to our expanded office hours and convenient location, you can now get your teeth cared for with zero hassle.
More About Us
At your dentist in the financial district, we have three general dentists and two specialists who are eager to care for your smile. If you would like to meet them and get to know the rest of our team as well, please contact our office at 617-350-7474 to schedule an appointment.
Comments Off

on Your Dentist in Downtown Boston Has Expanded Office Hours!
No Comments
No comments yet.
RSS feed for comments on this post.
Sorry, the comment form is closed at this time.