June 5, 2018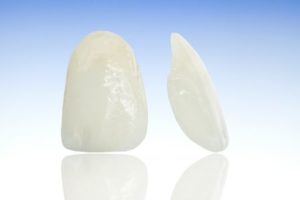 These days, many people want a smile they can feel good about. It's understandable since there's no question that a great smile can help you feel more self-confident. But if you weren't born with a beautiful smile or if time has taken its toll on your pearly-whites, you're not alone! Fortunately, there are some wonderful treatments that can give you the smile of your dreams. One of the most popular treatments is porcelain veneers because they offer dramatic results in such a short amount of time. If you want to know how a cosmetic dentist in the Financial District can use porcelain veneers to completely transform the appearance of your smile, you've come to the right place. Keep reading to learn about both the pros and cons!
What Are the Pros of Porcelain Veneers?
Porcelain veneers are a fantastic option for many reasons:
Fast, dramatic results – In just two appointments, porcelain veneers can truly change your entire smile and take years off your appearance.
Durable and stain-resistant – Porcelain stands out from other materials because it has a hard, glossy coating on it that makes it stain-resistant. It also reflects light more like natural teeth do, giving it a more natural appearance than other options.
Only requires basic maintenance – With good hygiene habits and regular dental care, you can maintain your porcelain veneers for many years. In fact, with basic maintenance, it's not uncommon for people to enjoy their new smile for over 10 years!
Conservative – Since porcelain is so thin (while still being strong) only a minimal amount of enamel must be removed during the procedure.
What Are the Cons of Porcelain Veneers?
Despite the many advantages of porcelain veneers, there are still a few drawbacks:
Irreversible – Since a small amount of tooth structure needs to be removed beforehand, porcelain veneers can't be undone.
They don't work for everyone – If you don't have reasonably good oral health, clench or grind, or have moderate or severe gum disease, you may not be a good candidate.
They're not indestructible – Although porcelain is incredibly strong and durable, it's still possible to damage it by chipping or cracking it!
Remember, when you're deciding whether porcelain veneers are right for you, it's helpful to discuss your unique needs and goals with a cosmetic dentist in the Financial District first!
About the Author
Dr. Dean Levy knows that a great smile will contribute to his patient's overall quality of life. While he offers a wide array of cosmetic treatments, he's found that porcelain veneers are one of his most popular procedures because they consistently offer such fantastic results. If you have any questions, he can be reached via his website or at (617) 350-7474.
Comments Off

on Porcelain Veneers? Ask a Cosmetic Dentist In the Financial District!
No Comments
No comments yet.
RSS feed for comments on this post.
Sorry, the comment form is closed at this time.