July 11, 2018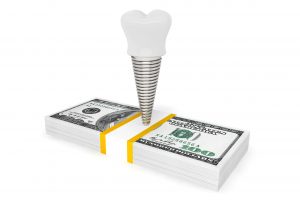 Are you among the 120 million Americans who are missing at least one tooth? To regain a complete, healthy smile, are you ready to join more than 500,000 people this year who are choosing the most successful option to treat your tooth loss? That is great! Your Downtown Crossing dentist will fill the empty spaces in your smile with dental implants. As the closest thing to your natural teeth, you will make a long-term investment in your quality of life. While you are excited to get started, you are concerned about their cost. When determining how much you can expect to pay, there are several factors that you must consider.

How Much Do Dental Implants Cost?
Unfortunately, there is no easy answer to how much you can expect to pay. On average, a single implant post can cost $1,000 to $3,000 with the crown and abutment costing between $500 to $3,000. If you are replacing multiple teeth, the amount can range from $3,000 to $30,000. Clearly, there is a large differential between the prices. This is due to the various factors that influence the cost.
There is no set price tag for dental implants in Downtown Boston. The amount you can expect to pay will vary depending on your specific treatment plan, including:
How Many Teeth are Treated: A single unit is cheaper than when replacing multiple teeth; however, when several are replaced, it is cheaper to use an implant-supported bridge or denture instead of treating each one separately.
Additional Procedures: It is not uncommon to need additional procedures prior to the placement of your implant posts, such as tooth extractions or bone grafting.
Diagnostic Images: To ensure that you are a candidate for the procedure and to determine the precise placement of your posts, you will need diagnostic imaging, including x-rays and a CT scan.
Anesthesia and Sedation: To promote your comfort during the procedure, anesthesia and sedation will likely be used.
Materials: There are many low-cost materials, but they can compromise the success and the aesthetics of the dental implants. It is best to choose high-quality materials that have a longer durability rate even though they may cost more.
Specialists: In some cases, you may require treatment from a specialist, such as a periodontist to treat advanced cases of gum disease.
Dental Insurance: Although dental insurance often does not cover the cost of the treatment, it may pay for certain aspects, such as the dental crowns or extractions.
How Can I Pay for Dental Implants?
Your dentist will help to maximize the value of your dental insurance to help lower the cost of the procedure. There are various payment options that can be used to pay the remaining balance, such as third-party financing with care credit.
Get a Complete Smile Today!
Do not let the cost of dental implants deter you from completing your smile. Schedule a consultation with your dentist to receive an estimate.
About Devonshire Dental Associates
Devonshire Dental Associates is committed to providing complete dental care under one roof. In addition to general dentistry, we offer many areas of advanced services, including dental implants. Contact our office today to schedule your consultation for a complete smile.
Comments Off

on Discover the Cost of Dental Implants with Your Downtown Crossing Dentist
No Comments
No comments yet.
RSS feed for comments on this post.
Sorry, the comment form is closed at this time.