March 8, 2019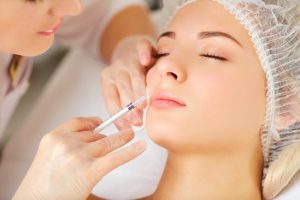 Did you wake up this morning and suddenly notice you look years older? Why now? You've obviously had those lines and wrinkles for a while, so what's with the sudden realization? We all age differently, and while some may show it with gray hair, others may see it on their face. Thankfully, it doesn't have to stay that way with Botox in Downtown Boston! If you're wanting to say goodbye to all those areas that make you look and feel older, here are 5 fast facts that can help you decide if the treatment is right for you.
6 Million Treatments a Year
Botulinum toxin, otherwise known as Botox, is considered the most popular non-surgical, cosmetic procedure. Its popularity has skyrocketed as more and more people long to recreate a smooth, youthful appearance.
Reduces Fine Lines and Wrinkles
When a patient comes in for a Botox treatment, it can be for one of two reasons: treatment of muscle spasms and pain or cosmetic purposes. If you're looking to get rid of fine lines and wrinkles, your doctor will inject a controlled form of Botox to stop muscle movements that can cause these age lines.
Treats More Than Facial Aging
Botox can work wonders for other problems you may be experiencing. Botox can be used to treat excessive sweating, migraines, muscular disorders, and even incontinence. When it is injected into the muscle tissue, muscle spasms decrease, thus helping to alleviate any pain or discomfort.
If you're experiencing oral problems such as TMD or teeth grinding (bruxism), Botox can be a great solution to help reduce some of the pain associated with these disorders. Other than having to undergo extensive procedures, you may opt for Botox since it's a less invasive treatment.
Safe and Effective
Although Botox sometimes gets a bad rap, it's safe and effective. This FDA-approved injection, derived from Clostridium botulinum, is purified for safety. Temporarily paralyzing a specific muscle group, it prevents them from contracting and causing the lines and wrinkles that come with the aging process.
Lasting Treatment
When visiting your Downtown Boston dentist to receive a Botox injection, you might be surprised to know that with only one appointment, your treatment can last anywhere from four to six months! Plus, it takes a very short amount of time for the doctor to administer the injection(s).
Botox isn't scary, and it doesn't deserve the bad reputation it's gained. Having Botox injections performed by a professional can ensure you will receive a safe and effective treatment, all while achieving your desired results.
About the Author
Dr. Dean Levy earned his Bachelor of Science from Villanova University, graduating Cum Laude. He then went on to receive his Doctorate of Dental Medicine from Boston University School of Dental Medicine, graduating Magna Cum Laude. Dr. Levy and his wife, Dr. Christa Rizkallah, as well as the rest of the team at Devonshire Dental Associates, can address all your oral health care needs. This family-run office works to provide high-quality care all under one roof.
Need Botox? You might be surprised to know you can receive treatments from your highly-skilled dentist! To learn more about our Botox service, contact us via our website or call (617) 350-7474.
Comments Off

on 5 Fast Facts About Whether Botox in Downtown Boston is Right for You
No Comments
No comments yet.
RSS feed for comments on this post.
Sorry, the comment form is closed at this time.