July 16, 2019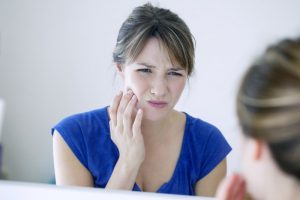 If you hear a clicking sound every time you open and close your mouth, it probably drives you crazy. You might think you're experiencing auditory hallucinations, but you're not. That clicking could easily be a sign of TMJ disorder. What does that mean? What causes TMJ? How can the disorder be treated? Your downtown Boston dentist is here to answer all of your TMJ questions.
What Is TMJ?
Temporomandibular disorder, or TMD, occurs when the temporomandibular joint (TMJ) doesn't work right and causes pain in your jaw muscles. This can result in difficulty biting, chewing, and even talking. If you experience any discomfort in your jaw muscles, or any of the symptoms listed below, talk to your dentist as soon as you can.
How Do You Know If You Have TMJ?
Some common symptoms of TMD, also known as TMJ, include:
Difficulty opening or closing your mouth all the way
Difficulty chewing
Pain in or around your ear
Pain in or around your jaw
Locking of your jaw joints
Cracking or clicking sounds when you move your jaw
What Causes TMJ?
TMJ may be caused by a number of things such as:
Teeth grinding, or bruxism
Poor posture
Frequent gum chewing
Arthritis
Unmanaged stress or anxiety
Misalignment or injury to the teeth or jaw
How Is TMJ Treated?
There are a lot of options available when it comes to treating TMJ, including ibuprofen for pain and swelling and wearing a nightguard for teeth grinding. Many people don't know this, but TMJ can also be treated with Botox. These injections relax the facial muscles and work to rapidly eliminate pain in the area surround the joint. People with TMJ often experience severe headaches, and Botox has been proven to reduce that pain.
The best part about Botox treatment is that you do not have to spend the night in a hospital. Simply visit your downtown Boston dentist's office for an injection. You should feel noticeably better within just a few days. However, it's important to not rub the injection site after having the Botox administered. It's also crucial that you stay upright to keep the Botox confined to the area where it's meant to work its magic. Follow these instructions, and your TMJ pain should quickly be a thing of the past.
Now you know the reason behind that annoying clicking sound in your jaw. You know it's important to get it checked out, and that Botox is a wonderful method of getting treated for TMJ disorder. If you experience any of the symptoms listed above, be sure to contact your dentist.
About the Author
Dr. Dean Levy graduated magna cum laude from the Boston University School of Dental Medicine. He practices with his wife, Dr. Christa Rizkallah, at Devonshire Dental Associates in Boston. Dr. Levy is certified to prescribe Invisalign, as well as Botox therapy and mouthguards to treat your TMJ disorder. To learn more about how to make your jaw pain go away, contact Dr. Levy at (617)-350-7474.
Comments Off

on What Causes TMJ? A Downtown Boston Dentist Has the Answer
No Comments
No comments yet.
RSS feed for comments on this post.
Sorry, the comment form is closed at this time.