September 26, 2019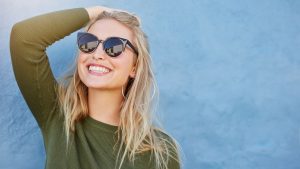 Making a good first impression is important in all aspects of life. Whether it's a job interview, a first date, or simply meeting a new friend for the first time, you want to appear relaxed and confident. It's pretty hard to do that when you're unsatisfied with your own smile. That's why there's cosmetic dentistry in Financial District – to help you overcome your dental insecurities. Here are 6 ways your dentist can help you fall back in love with your smile.
My Teeth Are Crooked
If your teeth are misaligned or your have gaps in your grin, look no further than Invisalign. This clear alternative to braces involves customized plastic trays that are worn over your teeth. They apply gentle pressure to shift your teeth into a more aligned position. Because they're removable, they come with zero dietary restrictions and are more comfortable than traditional braces. And because they're clear, hardly anyone will notice you're wearing them!
There Are Stains on My Teeth
Discoloration can happen to teeth for a variety of reasons, including:
Old age
Genetics
Certain medications
Consuming foods like coffee, berries, and wine
That's why your dentist offers both in-office and take-home whitening kits to help you achieve the brighter smile you want on your own terms. Either way, your grin will be dazzling in no time.
I Have Chips or Cracks in My Teeth
This is where direct bonding comes in. During this simple procedure, your dentist will apply a composite resin material to your teeth and then sculpt it into the shape you want. Bonding can be used to correct several imperfections like chips and cracks in just one appointment.
I Need a Crown
In the old days, you had to choose between restoring your tooth and having a natural-looking smile. Not anymore! With metal-free restorations like crowns, bridges, and more, you can get the treatment you need that seamlessly blends into your smile. They are made of material that perfectly mimics tooth enamel, even down to the way it reflects light.
My Smile Is Too "Gummy"
If your smile appears too "short," it may be that you have too much exposed gum tissue. Your dentist can use a soft tissue laser to painlessly contour the gumline and leave you with a perfectly symmetrical smile you can be proud of.
I Want to Correct Several Flaws at Once
Are your teeth slightly misaligned but not enough for braces or Invisalign? Do you have stains, chips, or cracks that you want to permanently fix? Porcelain veneers may be right for you. These custom-made shells of porcelain are bonded to the front-facing surfaces of your teeth to conceal flaws. Once a small sliver of enamel is removed from the affected teeth, your dentist will attach them to your smile, and voila! All the imperfections in your grin are corrected with one simple procedure!
Autumn is the perfect time to fall back in love with your smile. Talk to your dentist about which of these procedures is right for you to make your grin dazzle just in time for the holiday season.
About the Author
Dr. Dean Levy is a dentist in Financial District of Boston. He received his Doctor of Dental Surgery degree from Boston University, graduating magna cum laude. He is a certified Invisalign provider, so he can treat your misaligned smile, along with any other issues you may have with the appearance of your teeth. To get started on beautifying your smile, contact Dr. Levy by clicking here or calling (617) 350-7474.
Comments Off

on 6 Ways Your Cosmetic Dentist Can Help You Fall in Love with Your Smile
No Comments
No comments yet.
RSS feed for comments on this post.
Sorry, the comment form is closed at this time.