October 14, 2019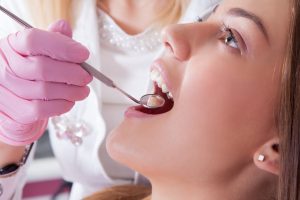 Now, more people than ever have dental insurance. You're among those who are insured, so you can visit your dentist in the Financial District for affordable rates. Despite comprehensive coverage, less than 3% of Americans use all their benefits in each calendar year. As the end of the year draws near, if you haven't reached your annual limit, it's time to schedule an appointment with your dentist before your coverage expires.

Why Should I See a Dentist Near Me?
Although it's a busy time of the year, it's best to keep an appointment with your dentist at the top of your priority list to avoid potential fee increases and losing your coverage. While it's tempting to wait to see your dentist until after a problem arises to save money, you'll actually increase your dental costs. Routine care keeps your teeth and gums healthy to reduce your overall expenses. In fact, every $1 spent on prevention can save as much as $50 on restorative treatments.
How Does Dental Insurance Work?
Every month you pay premiums for your specific insurance policy, which gives you access to reduced rates for the services your smile depends on. Although every policy differs, most insurance carriers cover 1-2 preventive dental appointments 100% each year. In addition, you're given a yearly allowance to use toward restorative treatments after paying your annual deductible. Your insurance can cover as much as 80% of the costs until reaching your limit, which is usually around $1,500.
Unfortunately, at the end of the calendar year, your dental insurance expires. If you don't use all your coverage, it will not carry over into the new year. You won't be reimbursed for your remaining limit or your premiums and deductible. You'll lose all the money you've paid into it throughout the year.
How Can I Use My Insurance Before It Expires?
Your insurance carrier recommends you visit a dentist who is in your network. This means the dentist has pre-negotiated rates with the insurance company. Although it's often preferred to choose an in-network dentist, you can still visit any location that accepts your coverage. Be aware, you'll need to pay the difference between the dentist's fees and your insurance allowable coverage.
Your dentist works on your behalf with your insurance company to file the necessary claims and paperwork to maximize your insurance benefits. No matter if you still have a preventive appointment remaining or you need a dental treatment, they'll help you utilize your coverage to achieve your dental goals while staying within your budget.
Maximize Your Benefits Today!
Don't wait until it's too late to use your dental insurance. Schedule an appointment with your dentist to achieve a healthy smile for the new year.
About Devonshire Dental Associates
Devonshire Dental Associates features a team of dental professionals dedicated to providing comprehensive, affordable dental care. Our office is in-network with many leading insurance carriers, including Delta Dental, BlueCross BlueShield, and Cigna. We'll help you maximize your insurance coverage before the year ends. Contact our office today to schedule an appointment.
Comments Off

on Maximize Your Dental Benefits Before They Expire
No Comments
No comments yet.
RSS feed for comments on this post.
Sorry, the comment form is closed at this time.