February 7, 2020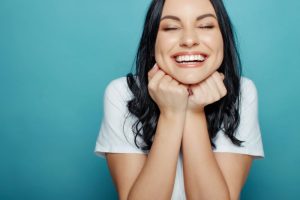 Did you know that American adults laugh about 17 times a day on average? Unfortunately, it can be difficult to enjoy the moment if you're giggling behind your hands because you're embarrassed of your teeth. If you wish you could redesign your smile but don't want to spend a lot of time on a complicated, invasive cosmetic procedure, porcelain veneers can help. These ultra-thin shells of beautiful dental porcelain can comfortably and completely transform your smile in just two easy appointments with your cosmetic dentist in the Financial District. Here are five benefits of getting the pearly whites you've always wanted with porcelain veneers.
Easily Conceal Chips, Cracks, and Stains
These custom-made shells of porcelain can completely change the size, shape, and color of the tooth they're attached to. Whether your teeth are chipped, cracked, stained, misshaped, or oddly spaced, porcelain veneers in the Financial District can conceal them with the appearance of a dazzling and natural-looking smile.
Enjoy a Quick and Minimally Invasive Procedure
Only a thin layer of enamel needs to be removed from the front of your teeth to allow the porcelain veneers to lay inline with the rest of your smile seamlessly. Some patients don't even require any anesthesia for this noninvasive procedure. After two quick appointments, you can start enjoying your all-new smile.
Protect Your Teeth from Discoloration
Dental porcelain is an ideal choice for your veneers because of how closely it resembles the look and feel of a natural tooth. It's also stain-resistant, which means that it will keep its beautiful hue after you drink all the cups of coffee and glasses of wine you like.
Maintain Your Veneers Easily for Decades
Even though your porcelain veneers are stain-resistant, you still need to keep up your regular brushing and flossing habits to protect your teeth. However, as long as you follow simple yet effective oral hygiene practices, you can benefit from your porcelain veneers for 10-30 years.
Regain Your Smile and Your Confidence
When you love the look of your pearly whites, it shows. You'll naturally start to smile more when you're no longer worried about what other people think about your teeth. Smiling triggers a natural response in your brain to release chemicals like dopamine, serotonin, and endorphins. These feel-good compounds will encourage you to feel relaxed, confident, and optimistic every time you show off your newly improved smile!
About the Practice
Our talented team at Devonshire Dental Associates in Boston, MA cares about your time, concerns, and values, which is why we strive to meet all your dental needs under one roof. If your smile has you frowning for any reason, come see your local Financial District dentist for a custom treatment plan. We are proud to use the highest quality materials and latest techniques for all our cosmetic services, including porcelain veneers. If you'd like to redesign your smile, feel free to contact us via our website or at (617) 350-7474.
Comments Off

on 5 Reasons to Transform Your Smile with Porcelain Veneers
No Comments
No comments yet.
RSS feed for comments on this post.
Sorry, the comment form is closed at this time.