March 25, 2020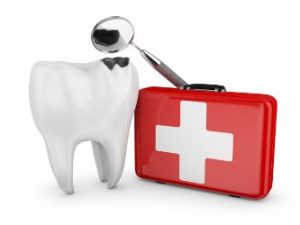 Dental emergencies are stressful and often happen at the most inconvenient times. It can also be hard to know when you need to see a dentist in downtown Boston right away and when it can wait for normal business hours. If you're ever in doubt, dentists are just a phone call away in any situation and are happy to advise you over the phone. In the meantime, learn more below about when a dental emergency is urgent and when you can wait to get treatment.
Urgent Dental Emergencies That Require Immediate Care
Call an emergency dentist right away in any of the following situations:
A loose or knocked-out tooth
A crack or chip that's causing pain
Swelling in your lip or cheek or a pimple-like bump on the gums (this is often a sign of an abscess or infection)
An ongoing toothache (as opposed to mild discomfort that comes and goes)
A broken tooth or broken dental work
Severe pain that keeps you from eating, sleeping or working
Also, while a dentist is able to handle the emergencies mentioned above, you'll need medical care if you have a broken jaw or heavy bleeding that won't stop after applying pressure for 15 minutes. If you aren't sure, call a dentist for advice over the phone.
Non-Urgent Dental Emergencies That Can Wait
In the following situations you can schedule an appointment with a dentist in downtown Boston over normal business hours:
A small chip or crack that isn't painful (however, try to chew on the opposite side until it's been looked at because the tooth will be weaker and prone to breaking again).
A lost filling, crown, or bridge. You can use dental cement from the drugstore to temporarily adhere a crown or bridge into place, but don't use any other type of glue because it can damage your tooth and make it harder for a dentist to repair.
A dull toothache that comes and goes.
Finally, just one more reminder that if you're in a "gray area" and aren't sure if you need immediate care or not, a dentist will be happy to advise you over the phone. If necessary, they'll set up an appointment right away or simply give you the assurance you need that it can wait.
About the Author
Dr. Althea Angel has been a dentist for over 30 years and graduated from the Harvard School of Dental Medicine. She and her colleagues are dedicated to providing outstanding emergency care and are always just a phone call away. If you're having a dental emergency in downtown Boston or have any questions, she can be reached via her website.
Comments Off

on Dentist Explains Difference Between Urgent and Non-Urgent Dental Emergencies
No Comments
No comments yet.
RSS feed for comments on this post.
Sorry, the comment form is closed at this time.