April 22, 2020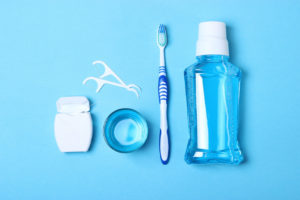 The coronavirus has likely changed many aspects of your family's life. For example, you're now more reliant than ever on your home care habits to keep your teeth healthy since you can't visit a dentist in downtown Boston for regular preventive visits. Since shelter in place guidelines can make it hard to go to the grocery store and get dental hygiene products, it's important to try to make the supplies you have last longer. But how much toothpaste, floss, and mouthwash do you really need to use to keep your teeth clean? Read on to find out.
1. Toothpaste
When using your toothbrush, your natural instinct might be to use enough toothpaste to cover the surface of the brush head. But that's actually more than you need. A pea sized amount is all that is necessary to protect an adult's teeth. For young children who still have their baby teeth, only a rice sized amount is necessary. Because kids can have a hard time measuring the right amount, it's a good idea to apply the paste with them to prevent any waste.
2. Toothbrush
The effectiveness of your home dental care is tied directly to the quality of your toothbrush. Over time, the bristles can get bent out of shape and struggle to remove plaque. Your brush can also accumulate bacteria in the spaces between the bristles if not properly cleaned. To remedy these issues, you should try to change your toothbrush every three months, or immediately after you've been sick.
If you find that you need to replace your toothbrush before the three-month mark, then it might be time to consider changing your brushing habits. Aggressive brushing is unnecessary. It wears out the bristles quickly and damages your gums. Instead, brush slowly and gently.
3. Dental Floss
You need to use a piece of floss that's about 20 inches long to do a good job. This may seem like a lot, but it ensures you have enough to reach between all the teeth in your mouth. Alternatively, if you don't like using floss, you can use a water flosser to achieve a similar effect. The only thing you'll need to operate it is water!
4. Mouthwash
Rinsing your teeth with mouthwash helps get rid of bacteria that may have been left behind after brushing. What's also great about it is that you don't need to use a whole lot to get the job done. Only four teaspoons in enough to effectively cover your mouth. Be sure to read the directions provided on the product to determine how many times per day you need to rinse with it.
It's important to redouble your home dental care efforts while you can't make your regular preventive care visits. Use these suggestions to make your dental hygiene supplies last longer and avoid unnecessary trips to the grocery store.
About the Practice
Devonshire Dental Associates believes in giving people everything they need to care for their teeth. The dentists at the practice take continuing education courses annually to make sure they have the best information to guide patients with. If you would like to find out more about what you can do at home to care for your teeth, you can reach out to a member of the team through the practice website or at 617-350-7474.
Comments Off

on How To Make Your Dental Hygiene Products Last Longer
No Comments
No comments yet.
RSS feed for comments on this post.
Sorry, the comment form is closed at this time.