May 4, 2020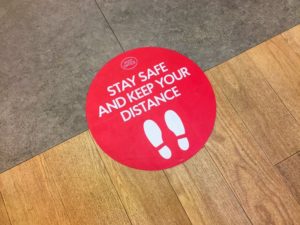 You've been pretty good at adhering to social distancing guidelines, only leaving the house when you absolutely have to. One day you develop a sudden toothache and now you're anxious. Is it safe to go to the dentist with everything that's going on? Believe it or not, yes! Your dentist in downtown Boston is practicing social distancing as well. Keep reading to find out how.
How Is Your Dentist Practicing Social Distancing?
Here are a few of the ways your dentist is adhering to social distancing guidelines:
Virtual Waiting Rooms
When you arrive at the office, there should be a sign on the front door instructing you to check in on your phone instead of coming into the office. You should get a notification when the dentist is ready for you. This way, you can bypass the petri dish that is sitting in the waiting room and walk straight back to the treatment room.
Spaced-Out Appointments
Your dentist simply isn't seeing as many patients as they did before COVID-19. In addition, appointments are longer, allowing for more dental procedures to be performed in one sitting. This system also sets aside time for the treatment rooms to be cleaned between appointments.
Safety Champion
Every day, a different member of the team is that day's designated "safety champion." That person will be in charge of answering patient questions, enforcing social distancing, and generally monitoring other team members.
How Else Is Your Dentist Keeping You Safe from COVID-19?
Additionally, there are plenty of other rules that your dentist is following to keep their office as germ-free as possible. Some of these precautions include:
Adding HEPA-grade filters to the air system along with standalone air cleaners in each treatment room
Wearing additional PPE (personal protective equipment) such as double face masks, face shields, and shoe coverings
Checking each staff member's health every day
Changing into and out of work clothes at the office instead of at home
Reducing bacteria by having patients rinse with an Oracare solution before their appointment begins
Deep cleaning the entire office every evening
As you can see, your dentist cares deeply about their patients' health and safety, enough to enforce all of these new social distancing rules. Rest assured that if you develop a dental problem or you just need a checkup, you can get the care you need worry-free.
About the Author
Dr. Dean Levy is a dentist in the Financial District of Boston who earned his Doctor of Dental Medicine from Boston University Goldman School of Dental Medicine. Since then, he has completed hundreds of hours of continuing education to better hone his dental skills. He is a member of the American Dental Association, the Massachusetts Dental Association, and the North Shore District Dental Society. His practice follows all of the social distancing guidelines described in this post and more. To learn more about how Dr. Levy's office will minimize your risk of infection, visit his website.
Comments Off

on Social Distancing in Dentistry: How It's Possible
No Comments
No comments yet.
RSS feed for comments on this post.
Sorry, the comment form is closed at this time.