May 11, 2020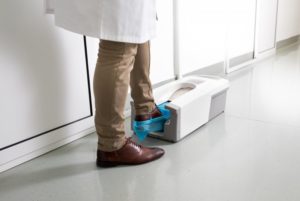 Just a few months ago, most of us had never heard of COVID-19. Now it has taken over virtually every aspect of our lives, including how we work. Dentists are no exception to this massive societal shift. Before COVID-19, all that your dentist in downtown Boston had to do to get ready for your visit was don a new pair of gloves and a mask. These days, however, that's not nearly enough to fully protect against infection. Keep reading to learn more about the safety precautions that your dentist takes before your appointment to keep you healthy and safe.
Changing Work Clothes at Work
In the old days before the pandemic, you may have seen your dentist or hygienist out and about, still clad in their stylish scrubs. That will no longer be the case. Instead, your dental team will change into and out of their work clothes at the office. This is because changing into their scrubs at home can bring unwanted germs into the office. Changing at work drastically reduces the chances of outside pathogens entering the practice.
Wearing Additional PPE
As mentioned earlier, a mask and a pair of gloves isn't quite enough to protect your dentist, their team, and their patients from exposure to germs. Because of this, your dentist's clinical team is going to be wearing more personal protective equipment (PPE) than they did before. These items include shoe coverings, double face masks, face shields, and even surgical gowns.
Having a Designated Safety Champion
Each day, a different member of your dentist's staff will be randomly selected as that day's Safety Champion. This person will be in charge of generally making sure everyone is following safety guidelines. Some of their other duties may include enforcing social distancing, greeting patients, and fielding questions.
Performing Daily Staff Health Checks
Every day when your dentist's staff arrives at the office, they'll be required to answer a few quick questions regarding their current health and whether they have any symptoms of the coronavirus. Their temperatures will also be taken with a no-contact thermometer. If anyone's health isn't up to par, that staff member is sent home to recover.
COVID-19 has definitely changed how dentists do their job. They now have to take extraordinary precautions to keep their patients safe. Rest assured that your Seaport District dentist will go above and beyond to ensure your health and safety at your next appointment!
About the Author
Dr. Dean Levy is a dentist in downtown Boston who earned his Doctor of Dental Medicine degree from Boston University Goldman School of Dental Medicine, graduating magna cum laude. His professional memberships include the American Dental Association, the Massachusetts Dental Association, and the North Shore District Dental Society. His practice, Devonshire Dental Associates, adheres to all of the safety precautions listed above and more. To find out more about how Dr. Levy keeps his practice safe and clean, visit his website or call 617-350-7474.
Comments Off

on How Your Dentist Gets Ready for Your Appointment During COVID-19
No Comments
No comments yet.
RSS feed for comments on this post.
Sorry, the comment form is closed at this time.