July 6, 2020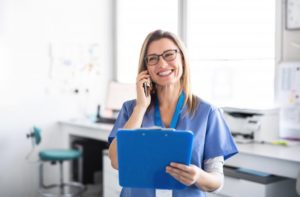 From the way we go grocery shopping to the way we communicate with our loved ones, the COVID-19 pandemic has changed so many aspects of our daily lives. Believe it or not, dentists are no exception. Most dental practices are still open, but they've taken their safety protocols to a whole new level. For this reason, you shouldn't feel nervous about attending your checkup or getting your aching tooth looked at. Here are a few things your dentist in downtown Boston wants you to know during this time.
Now Isn't the Time to Let Your Oral Health Slide
Although it may seem like your teeth are so far away from the rest of your body, the truth is that your oral health is intertwined with your overall health. Not taking good care of your teeth and gums could lead to general medical consequences. For example, not flossing enough could result in gum disease. The bacteria that are present in your mouth when you have gum disease could then spread to other areas of your body and wreak havoc. In fact, gum disease has been linked with an increased risk of health issues such as diabetes, heart disease, and osteoporosis. Be sure to maintain a good oral hygiene routine during quarantine.
Your Dental Team Is Taking More Safety Precautions Than Ever Before
Dental offices were already among the cleanest places on Earth even before the pandemic. These days, though, they're implementing additional safety measures, such as:
Performing daily health checks of the staff
Changing into and out of work clothes at the office
Spacing out appointments to allow for proper social distancing
Thoroughly disinfecting surfaces between appointments
Wearing increased personal protective equipment (PPE)
Dentists Have Always Been Leaders in Infection Control
As oral healthcare professionals, dentists have plenty of experience in preventing the transmission of dangerous pathogens, especially airborne ones like COVID-19. Rest assured that your dental team is following all of the recommendations made by the Centers for Disease Control and Prevention (CDC) in order to ensure a safe and sterile office.
Healthcare Professionals Stay on Top of New Safety Protocols
Part of your dentist's job is to keep up with the latest standards and advancements in the dental world. At the moment, this includes safety guidelines to follow during the pandemic. If the CDC releases any new protocols, they will be implemented in your dentist's office as soon as possible.
Even during these times, the safety of their patients is always your dentist's top priority. You should be able to seek the dental care you need without worrying about the risk of infection. To learn more about your dentist's safety protocols, just give them a call. It can help put your mind at ease.
About the Author
Dr. Dean Levy is a dentist in the Financial District of Boston who earned his Doctor of Dental Medicine degree from Boston University Goldman School of Dental Medicine. Through his memberships in the American Dental Association, the Massachusetts Dental Society, and the North Shore District Dental Society, he stays up to date on the latest dental techniques. His practice also maintains the highest level of safety they can achieve by following all of the CDC's guidelines. For more information on how Dr. Levy keeps his office clean and safe, visit his website.
Comments Off

on What Your Dentist Wants You to Know in the Age of COVID-19
No Comments
No comments yet.
RSS feed for comments on this post.
Sorry, the comment form is closed at this time.