August 24, 2020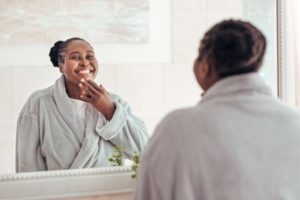 As you age, fine lines and wrinkles can form on your face due to a variety of environmental and lifestyle factors. These can often make some people appear older than they actually are, causing their self-confidence to shrink as more lines form around their eyes and mouth. Dermal fillers and BOTOX in Downtown Boston are two popular cosmetic procedures that can help restore your youthful glow without needing an invasive surgery. However, one question that patients are often left with is "What's the difference?" Read on to learn the difference between BOTOX and dermal fillers and how to determine which one is right for you.
Why Do Wrinkles Form?
As touched on above, wrinkles and fine lines can form for a variety of reasons. The most common two include:
Making distinct facial expressions that break down collagen and elastin beneath the skin that make your skin look firm.
UV damage from sun exposure.
The nicotine in cigarettes reduces the amount of oxygen and nutrients to your skin.
Overworked facial muscles that bunch up over time.
Genetic ability to create collagen and elastin.
How Does BOTOX Tackle Facial Lines?
BOTOX is comprised of botulinum toxin, which is a product of bacteria that can reduce stress of overworked muscles and prevent them from causing skin to appear distressed. It's great for patients who have wrinkles caused by squinting, frowning, and furrowing the eyebrows. These actions often result in crow's feet, horizontal lines on the forehead, and vertical lines between the eyebrows.
BOTOX injections are strategically administered in the muscles involved in creating the wrinkles to temporarily minimize fine lines in these areas. This prevents them from appearing bunched-up.
What Can Dermal Fillers Do To Erase Wrinkles?
Dermal fillers in Downtown Boston approach minimizing facial wrinkles and lines in a different way. While they can provide similar results as BOTOX, they're designed to replace the lost collagen beneath the skin to make it appear firmer instead of loose. They can also be molded beneath the surface of your skin and placed directly where they're needed, because they're a gel solution. These are best used in places that appear sunken or thin, such as lips and cheeks.
The best way to determine whether you're a good candidate for BOTOX or dermal fillers is to talk with your dentist in Downtown Boston during your consultation. After listening to the improvements that you'd like to make and examining the area you're concerned about, they can guide you in the best direction. After your injections, you'll be able to enjoy beautiful, youthful results that can last for several months!
About the Practice
At Devonshire Dental Associates, we offer the professional expertise of three general dentists, a periodontist, and an endodontist. Every one of our team members is dedicated to keeping up with the latest, cutting-edge treatments and technology. We offer a variety of cosmetic solutions to help boost our patients' confidence, including BOTOX and dermal filler injections, porcelain veneers, and Invisalign orthodontic treatment. For questions or to schedule an appointment to regain your youthful glow, visit our website or call 617-350-7474.
Comments Off

on BOTOX vs. Dermal Fillers: Which is Right For You?
No Comments
No comments yet.
RSS feed for comments on this post.
Sorry, the comment form is closed at this time.