May 2, 2018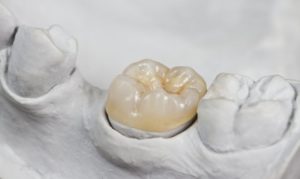 A minor crack in the crown of your tooth can soon become a major problem if ignored. That's because the barrage of foods, beverages and chewing action that teeth endure throughout a normal day will eventually wear them down – especially one that's already compromised. Then, you risk the chance of infection and other serious problems. Thankfully, you can avoid bigger issues and be restored with dental crowns in downtown Boston. Read on to learn why they are so important for maintaining your oral health.
What's the Purpose of a Crown?
The crown is visible above the gumline and protects the sensitive inner area of the tooth. It is covered by a hard substance – called the enamel – that acts as the main wall of defense against the many foods, beverages and digestive acids that come in contact with your ivories. When the enamel and the crown are compromised, the health of your whole tooth is placed in jeopardy.
If the Crown is Cracked, This May Happen
When your tooth is cracked, your dentin can then be exposed, which is significant because it is the first layer beneath the enamel that actually has nerves in it. Thus, if your tooth is compromised, you could feel discomfort and be open to infection.
A bad infection could eventually require a root canal or a tooth extraction to remove the bacteria and restore your tooth, but it's a lot easier to just address the cracked crown early on.
How Does the Process Work to Receive a New Crown?
The process of getting a replacement crown is simple. Here are the steps:
At the first appointment, your dentist in downtown Boston will remove any bacteria, if necessary, reshape the tooth, take bite impressions and place a temporary crown.
The impressions will be sent to a trusted lab that will fabricate your new fixture, and after a couple of weeks, your dentist will invite you back in to be fitted with the permanent application.
At the final visit, your dentist will use a special type of cement to permanently attach your crown.
You'll leave the office with a fully restored smile!
How to Protect Your Crown
Once your tooth is fully restored, you want to make sure that it lasts. Here are some tips that will help you out:
Oral Hygiene – Brushing and flossing your teeth are two important keys to protecting your dental crown. That's because your gums are vulnerable to infection and can cause your fixture to fail if bacteria and plaque are allowed to seep beneath the gumline.
No Teeth Grinding – Grinding your teeth can also cause your crown to fail. That's because of the pressure that is applied from the two rows meeting at the occlusion point. If you suffer from this condition, then you should alert your dentist.
Regular Dental Visits – A final way to ensure the longevity of your crowns is to visit your dentist at least twice a year for cleanings and checkups. These visits will ensure that your oral cavity is clean and that your crown is still holding up properly.
Whenever there is a malfunction in one part of your mouth, it can cause a chain reaction of events. So to prevent other oral maladies from happening, reach out to your dentist to schedule a restoration visit.
About the Author
For over 30 years, Dr. Althea Angel has been practicing dentistry. A Boston native, she earned her dental degree from the Harvard School of Dental Medicine. Additionally, she has received advanced training from Tufts University, the Kois Center and other prestigious organizations. Dr. Angel practices at Devonshire Dental Associates and can be reached for more information through her website.
Comments Off

on Restore Your Cracked Teeth with Dental Crowns in Downtown Boston!
No Comments
No comments yet.
RSS feed for comments on this post.
Sorry, the comment form is closed at this time.