May 25, 2018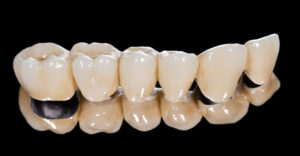 If you're suffering from the loss of a single tooth or multiple ivories, it's good to know that there's a remedy for each, that will restore your smile and function of your teeth. Two viable forms of restoration are bridges and dental crowns in downtown Boston, but what are they exactly? That question is answered by your local dentist as you continue reading.
What is a Bridge?
Just as the term 'bridge' suggests, the application bearing the same name serves as a connecting piece between two sets of teeth that are separated by missing ivories. The bridge consists of two or more ceramic-made, tooth-colored teeth that are formed into one fixture.
Typically, your dentist will either file down or add a special filler to build up the teeth immediately next to the bridge, so they can serve as sound abutments (anchors) for your prosthetic fixture to attach to. The bridge will have metal clasps on each end that allows it to securely attach to your abutments.
With your new application, you'll be able to enjoy a brand-new smile, while maintaining the convenience of being able to remove your prosthetic to clean it and let your gums rest when necessary.
The Crown Explained
If you have a single tooth missing, then you'll need a crown replacement. The crown is the part of the tooth that shows above the gumline and allows you to eat, speak with clarity and maintain an aesthetically pleasing smile.
Your dentist will used some of the same prepping methods as is used for bridges. Meaning, he or she will file down the teeth directly next to the abutment. But, instead of a clasp holding your crown in place, the new fixture will be cemented to the two adjacent teeth.
After the crown is placed, you'll leave your dentist's office looking and feeling like a new person.
How Long Does Each Process Take to Complete?
The process for receiving either a dental crown or bridge usually takes at least two visits. At the first appointment, your dentist will do any prep work needed, taking photos and bite impressions of your teeth that will be sent to a trusted lab to craft your new prosthetics.
After a few weeks, when either fixture is ready, you'll be called back in to be permanently fitted. With these simple steps, you'll have a remade smile, renewed confidence and the ability to live to the fullest!
To schedule an appointment to learn more about the two processes, reach out to your dentist in downtown Boston today!
About the Author
For over 30 years, Dr. Althea Angel has been changing lives through the world of dentistry.  A graduate of the Harvard School of Dental Medicine, she received additional training in immunology from Tufts University and has also studied at some of the other more prestigious institutions in the country. Her advanced learning translates into top-notch care for her patients at Devonshire Dental Associates. Dr. Angel can be reached for more information through her website.
Comments Off

on Restore Your Smile with Bridges and Dental Crowns in Downtown Boston
No Comments
No comments yet.
RSS feed for comments on this post.
Sorry, the comment form is closed at this time.